A Day Out Skiing in Soelden.

Crystal Tears Fall as Snowflakes.
pop quiz: the lyric above is from what song and artist? clue: top tune for Roger Moore's last mission.
Having the Snowcard Tirol this season means we can venture further West for our skiing day trips. We decided on a three day ski trip.
Skiing in Soelden.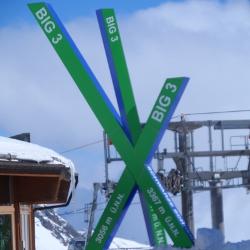 Daniel Craig and company filmed a number of scenes for 'Spectre' in Soelden, the latest mission for James Bond. At time of writing, it is the latest as the last with Daniel Craig is still sitting in the can waiting for COVID to subside and cinemas to open! The scenery and skiing is certainly cinematic.
When you ski small resorts in Austria, like we often do, you can forget how BIG some ski resorts really are. With two glaciers, three 3,000m+ peaks and a 15km+ run; Soelden is truly BIG.
We undertook the challenge to do the glacier ski circuit which, according to the piste map, should take about four hours. The first hour is spent, pretty much, on lifts going up, it then took us just over an hour to ski the rest of the circuit, and this included a couple of off-route, off piste sections – well as the snow was fantastic, it would have been rude not to.
After a coffee stop in what appears as the baddie's lair in the film; which incidentally also has a loo with a view, at the top of the Gaislachkogl, we had the rest of the day to have some more ski fun. Soelden is definitely somewhere we'll be going back to ski again.
pop trivia: The most successful charting Bond theme was indeed A View to a Kill by Duran Duran in 1985.

If you don't want to miss any of my blog posts on the latest ski offers, news and information, make sure you follow me on Twitter or Facebook. I'd also welcome any ideas for future posts. Please send me any ski news and updates that you know about. Thank you.