Taos Ski Resort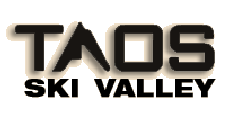 Skiing Taos Ski Valley
Getting To Taos Ski Valley
Accommodation Taos Ski Valley
Après Ski Taos Ski Valley
Taos Ski Valley Trail Map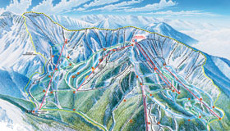 Taos Ski Valley Ski Resort Review
One of the Taos Ski Resort's chief attractions is its 'steep and deep' skiing. Taos also has adequate easy slopes, such as Honeysuckle, Bonanza and White Feather. Close to the daunting lookin Al's Run which greets new arrivals, there is a sign aimed ar reassuring novice skiiers that says, 'Don't Panic. Form this point you can only see 1/10 of the Taos Ski Valley.
Even by the diverse standards of American skiing scattered across a 2,500-mile continent, Taos is a glorious one-off. Like D.H. Lawrence, Georgia O'Keeffe and Wild West frontiersman Kit Carson, who all lived here, you don't have to ski to enjoy it – but you will have a lot more fun if you do.
The 1,000-year-old town with its adobe buildings and dominant Native American culture has been inspiring writers, artists, and musicians for more than a century. In its desert setting of cactus and sage, Taos looks enchanting, and there are ski shops among the boutiques selling Indian art and jewellery, ponchos and pottery. But for the snow you need to raise your head to the magical peaks of the Sangre de Cristo mountains rising sharply above the town. The skiing – snowboarding is still not allowed here – takes place 3,000ft higher, up an 18-mile road through the Carson National Forest.
In contrast to the town, with its Native American ambience, Taos Ski Valley (TSV) has a distinctly European atmosphere. Not surprising since it was founded back in 1955 by Swiss-born German Ernie Blake. TSV is a collection of lodges and condo buildings that line the banks of the Rio Hondo creek, linked together by bridges and walkways. The 11-lift ski area suits all standards but while there is good novice terrain and excellent ski instruction, some of the best in America, this is a place for skiers who like their mountain steep and deep.
Taos Ski Valley – In Brief
Getting There:
Santa Fe: 110km (69 miles).
Nearest major airport is in Albuquerque: 220km (137 miles), frequent daily shuttle service to and from airport. Taos has small municipal airport.
---
Height:
2,800 – 3,600m (9,190 – 11,810ft).
---
No of Ski Lifts: 12.
---
Types of Ski Pistes:
20% beginners, 24& inermediates, 56% advanced.
---
Main Advantages:
Varied and challenging terrain; usually good snow record; excellent ski school; impressive scenery; fascinating history.
---
Drawbacks:
Limited hotel accommodation; small village; no snowboarding.
---