Fernie Alpine Ski Resort Review.
Fernie Alpine Resort, FAR, ski area lies below a long sickle shaped ridge, just four miles from the lovely town of Fernie, in the midst of the rugged peaks of British Columbia's Rockies. This is not a glamour resort, but an historic mining town.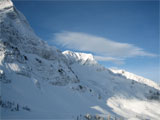 Fernie is one of those rare resorts that truly suits all levels, and its compact size lends itself particularly well to families. It has a good beginner area at the base, and plenty of tree skiing for all standards.
However the real action is found in the series of five deep powder bowls, Siberia Bowl, Timber Bowl, Currie Bowl, Lizard Bowl and Cedar Bowl, that stand side by side beneath the 2000m peaks of Mammoth Head, Elephant Head, Polar Peak, and Grizzly Peak. These bowls provide an astonishing variety of challenging terrain that will keep a strong intermediate or advanced skier happy for a whole season.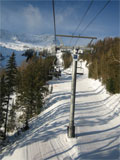 The "Old Side" of the mountain is accessed is by two successive chair lifts, The Elk Quad and the Great Bear Express, from the base area they take you up to the Lizard Bowl and the Cedar Bowl. The upper parts of these two bowls are reached by the notorious Face Lift.
The "New Side" of the Mountain is access by the long and often chilly, Timber Bowl Express chairlift, to access Siberia Bowl, followed by the White Pass Chair to access the upper parts of both Timber bowl and Currie Bowl.