The city of Narvik is located among the fjords in the northern western coastal part of Norway. The city itself is inside the Arctic Circle and is a rather bleak Norwegian port with a modest, but unexpectedly rewarding, local ski hill; Narvikfjellet.
The pisted ski area consists of broad intermediate pistes, that are not really enough to keep a keen skier occupied for more than half a day.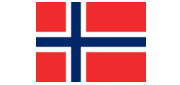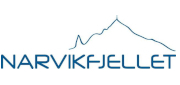 There is a total of nine pistes plus six un-groomed slopes. The six lifts also provide access to an extensive range of off-piste skiing. The best bit of the resort is the Mőrkhåla snow bowl; a half hour ridge walk from the top lift station at Linken.
Narvik is one of the Best Ski Resorts for…
Skiing in Narvik.
Getting There.
Far from the main centres of population, and within the Arctic circle, getting to Narvik is part of the experience of skiing there.

By Plane. Nearest Airports.
The local airport is the domestic terminal of Harstad/NarvikEvenes, around an hour from the city. Across the border in Sweden, Kiruna airport is also an option.
Harstad/NarvikEvenes (EVE): 60km.
Stockholm (ARN): 1,400km.
Oslo (OSL): 1,350km.
Kiruna, Sweden (KRN): 180km
The options to get from Harstad airport to Narvik are by road. From Kiruna there is also the train as an option, see below.

By Train. Nearest Railway Stations.
There is normally at least two trains a day running between Lulea in Norway to Kiruna in Sweden, also stopping at Boden and Rikgransen (Sweden) and Fauske (Norway).
Lulea: 515km; 7.25 hours.
Kiruna: 180km; 3 hours.
Rikgransen: 45km; 1 hour.
Boden: 490km; 6.5 hours.
Fauske: 250km; 5 hours.
From other parts of Europe, there are express and overnight sleeper trains operated by Norwegian State Railways and Statens Järnvägar.

By Road. Driving, Bus and Transfers.
The distances from major conurbations to Narvik are long. The E6 highway, the main north-south road of Norway is nearby, making reaching the resort by car possible from many locations in Norway, Sweden and Finland.
There are also buses to Narvik from most cities in Norway with Nor-Way Bussekspress and from Northern Sweden with Länstrafiken.
Once at Harstad/NarvikEvenes airport, Flybuss runs up to ten buses a day to the city or call Narvik Taxi.
Narvik itself is quite compact and it is possible to walk to the ski lifts at Narvikfjellet. The alternative is a couple of stops on the Reis Norland citybus; depending upon where you are staying.