Portillo, Santiago Ski Resort Review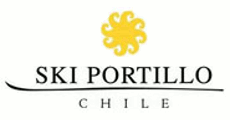 Portillo, South America's oldest Ski Resort is perched at 2850m (9350ft) just above a collection of blue huts housing Chilean border troops in a remote, steep sided and stunning valley.
Portillo is dominated by a single large, yellow hotel and a breathtakingly beautiful frozen lake, the Laguna del Inca. With only 450 hotel beds, the slopes are rarely crowed and you are bound to run into just about everybody you meet more than once.
Va et Vient
Portillo has two bizarre but exciting va et vient lifts specially designed for accessing the steep chutes in avalanche prone areas on both sides of the valley, va et vient lifts are a combination of a conventional cableway and a towerless cable-tow.
The larger of the two lifts, Roca Jack, hauls five skiers at a time on linked platters at considerable speed to the top of the chute before suddenly coming to a halt; skiers must then disengage backwards. From Roca Jack and Condor, its counter-part across the Laguna del Inca, you can ski down to the frozen lake and skate home.
The Ski Resort In Brief
Getting There:
Santiago: 160km (100 miles).
Los Andes: 70km (45 miles).
Bus and taxi services available from Santiago.
In season, helicopter shuttle service from Santiago - book with ski tour agencies.
---
Height: 2,510 - 3,350m (8,240 - 10,990ft)
---
No of Lifts: 14
---
Types of Pistes:
15% Beginner, 30% Intermediate, 30% Advanced, 25% Expert.
---
Main Advantages:
High-altitude lake; beautiful scenery; extensive snow-making facilities.
---
Drawbacks:
Lack of choice for accommodation.
---
Accommodation
Hotel Portillo: Portillo is unique because there is no town and only one hotel: the grand Hotel Portillo, which has 123 rooms. In this regard, the Portillo skiing and resort experience is unlike that of any other commercial ski resort.
Hotel Portillo's rooms are cozy and warm. There are a variety of room types, including: doubles, family apartments and suites. Some of the rooms have a mountain view from the valley side while the rest have a view of the lake.
Octagon Lodge: offered as a cheaper alternative, this is a small lodge just steps away from Hotel Portillo. Each room offers four bunks and a private bathroom. Guests in the Octagon Lodge enjoy all of the hotel's services including meals in the main dining room. The Octagon Lodge is considered shared accommodation and therefore each guest reserves a bunk bed. Consequently, guests travelling alone will be likely to share a room with other guests of the same gender
Inca Lodge: a backpacker's lodge located 30 'steps' away from the Hotel. Rooms are small and bathrooms are communal: one for women, one for men. The Inca is the cheapest accommodation in Portillo. Inca guests take their meals in the self-service cafeteria, but otherwise have access to all hotel facilities. At an additional charge Inca guests may also eat in the main dining room.