Hochkonig, Ski Resort in Austria.

That Night I Rested Limbs So Weary.
pop quiz: the lyric above is from what song and artist? clue: High Kings and Irish traditions.
Hochkönig ski resort is one of the best Austrian ski resorts for adventurous intermediates, with good nursery slopes for beginners, while for expert skiers there are ungroomed ski routes and some excellent off piste skiing. Snowboarders may find there are a few too many draglifts.
Hochkonig ski resort (Altitude: 800m to 1900m) has 33 ski lifts and 150 kilometres of ski pistes connecting the mountain villages of Maria Alm, Dienten and Mühlbach. Maria Alm at 802m, though small is one of the largest and liveliest villages in the Hochkönig area. All three villages are connected directly to the pistes by ski lifts and to each other by ski bus.
HochKonig Piste Map.

Large downloadable HochKönig Ski Resort Piste Map
The Best Ski Resorts In Austria
Getting To Maria Alm, HochKönig.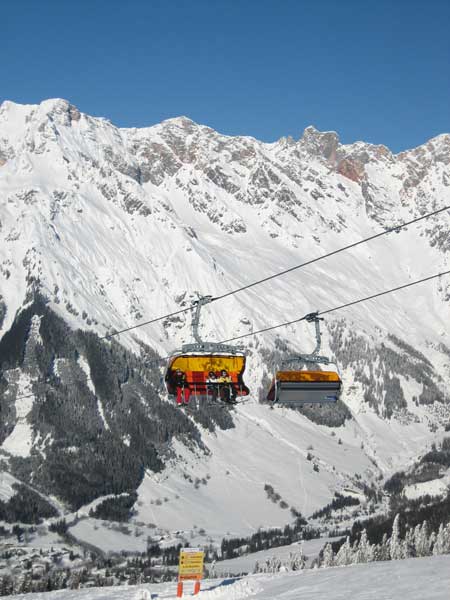 19km to Zell am See, 163km to Innsbruck Airport, 63km to Salzburg Airport.
Königstour.
The Königstour, the 'King' of ski tours is one of the longest ski routes in the Alps, with a total altitude difference of 6,700m and 32 kilometres of connected pistes.
Snow Parks.
Snowboarders and freeskiers have the chance to test their skills on terrain parks featuring rainbow boxes, moguls hills, easy kickers, straight boxes and more.
Snow park Maria Alm – Snow park Schönanger.
Located directly by the Schönanger lift.
2m Flat Kicker
3m Flat Kicker
4m Flat Kicker
Rainbow box (3m, without metal rim)
Straight box (3m, without metal rim)
Straight box (3m, without metal rim)
Mogul run
Snowpark Natrun by the Simmerllift
A small park for beginners directly in the village centre.
Straight box (3m)
Kicker (2m Flat)
Rainbow box (3m)
Show kicker (8m Flat)
Mogul run
Kings Park Mühlbach.
This extensive terrain park, situated right next to the Kings Cab cabin lift;
Flat box 12m
Kinked box 12m
A-Frame 9m
Elephant 13m
Hand rail 8m
2 Medium kicker
2 Flat Box 5m
Kinked Box 6m
Rainbow box 6m
Butter box
2 jib kicker
Kings Park Wood.
Wood Kicker
2 Step Down
Up Down, Rainbow
Deerstand ride
Little Wallride
Livingroom Snow park Hochkeil.
Mühlbach is next to the Arthurhaus.
Rainbowbox 6m
Straightbox 6m
Curvedbox 9m
Straight T-Profile 4m
Kinked T-Profile 7m
Walride 5m
Tube Walride 5m
Kicker 4m/6m/10m/16m
Cornerjump
Treejib
Handrail 3m
Double Kink 11m
Up Down 8m
2 Riesenspiegel 1,5 x 3m
Soundsystem
Schneewutzel Kids Line
Beginnerline
Advancedline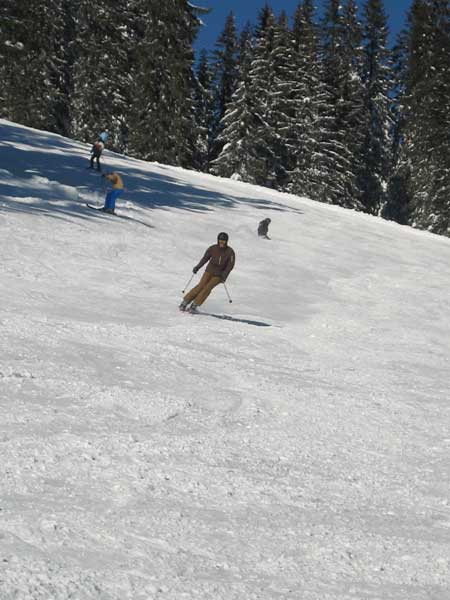 Freestyle Coaching.
Every Wednesday for snowboarders and Thursday for freeskiers! 2 hours of coaching with a freestyle pro from the Ski school Mühlbach.
Night Skiing.
The Floodlit Slope, Simmerl lift in Maria Alm; Every Monday and Thursday between 6:30pm and 9:30pm from mid December to mid March.
Off the Slopes.
Cross-county skiing and hiking.
Toboggan runs.
Snow shoe trekking.
Horse-drawn sleigh rides.
Ice-stock.
Geocaching.
Ski touring.
pop trivia: 'The Rocky Road to Dublin' is covered by many Irish folk bands, this version is from The High Kings; formed in 2008 and proving very successful at home and in the USA

If you don't want to miss any of my blog posts on the latest ski offers, news and information, make sure you follow me on Twitter or Facebook. I'd also welcome any ideas for future posts. Please send me any ski news and updates that you know about. Thank you.