Åre Ski Resort Review.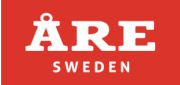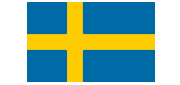 Åre, short for Årefjãllen and pronounced Aura, is Sweden's number one ski resort. Consisting of four separate ski areas and villages, Åre is strung out along a big frozen lake, Lake Åresjőn, and is somewhat reminiscent of St Moritz – just as vibrant but in a much more remote setting.
It takes about an hour and a quarter to drive to the 50 miles to Åre from the nearest airport, Őstersund, a special high speed train link from Stockholm does the journey in five and half hours.
The three ski villages of Duved/Tegefjãll, Åre and Åre Bjőtnen have 102 trails served by an assortment of 40 lifts, including Sweden's only cable car and funicular.
This far north the snow is almost invariably good, although it does get dark early in mid-winter. The sunsets around 2;30pm on 1 January, but by early February it is after 4pm before the sun goes down.
There is night skiing and boarding at Gasrappet and Lindsrappet for those who want to keep going instead of making an early start to the après-ski.
Off-piste is plentiful, heliskiing is also possible, the main focus is Åre with its tremendous variety of slopes.

Are Ski Resort Piste Map.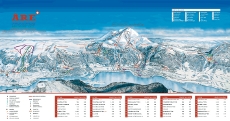 Getting to Are Ski Resort.

By Plane, nearest airports
Östersund (Åre Östersund Airport); approx. 80km from Åre
Trondheim (Værnes); approx. 130km from Åre.
From the UK
Scandinavian Airlines – SAS, 0871 521 2772.
www.flysas.co.uk, operates regular services to Östersund via Stockholm from Heathrow, London City and Manchester airports.
Airport Transfers
Åre Flygtransfer run private and coach transfers between Åre Östersund Airport and the Åre area.
www.flygtaxi.se

By Road
Stockhholm; 630km from Åre
Gothenbourg; 890km from Åre

By Train
From the UK
The fastest rail route from the UK to Sweden is via the Eurostar service through the Channel Tunnel from London (St. Pancras) or Ashford International (Kent) to Brussels, with onward trains to Copenhagen for connecting services to Sweden. Through trains operate from Copenhagen to destinations in Sweden via the bridge and tunnel across the Öresund strait.

Åre Ski Resort In Brief.
Height:
380 – 1,270m (1,250 – 4,170ft).
---
Ski Lifts: 46.
1 Funicular, 1 Cable Car, 1 Gondola, 1 Telemix, 8 Chair, 34 Surface.
---
Marked Pistes: 101km.
---
No of Pistes: 103
12% blue, 39% red , 39% black , 10% off-piste .
---
Main Advantages:
Largest ski area in Scandinavia; many winter sports available; attractive village; great for families; lively nightlife.
---
Drawbacks:
Short days during early/mid-season; can be very cold; remote resort, can be difficult to get to.