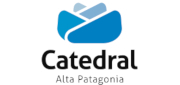 With San Carlos de Bariloche's bustling Grand Catedral ski area you can hardly wish for a more beautiful setting. Just 20km from the bustling city, perched high above the spectacular lake of Nahuel Huapi. Just like any Alpine resort, Catedral has it all: Sophisticated, cosmopolitan and vibrant, with night clubs, a casino and a delightful ski village.
On the wide plateaux lie a wealth of wide-open, largely intermediate slopes with good, high-speed cruising and abundant off-piste. Lower down, as you enter the wooded sections of the mountain, there are also some excursions in the trees and bushes to be enjoyed by more adventurous skiers. In addition, back-country skiers can venture into snowbound bowls between the peaks.
Grand Catedral is a well developed resort with a large ski area. Check the conditions before you go as Catedral has unreliable snow conditions, but has invested in good snow making facilities on the slopes.
Grand Catedral is one of the Best Ski Resorts for…
Skiing in Grand Catedral.
Getting There.
San Carlos de Bariloche has fairly good connections to the rest of Argentina and Chile. Grand Catedral is not far from the city. So, many skiers choose to stay in the city and make a daily commute to the slopes.

By Plane, Nearest Airports.
International travelers will, no doubt, arrive at the International Airport in Buenos Aires. The second stage of the journey is to transfer to the Domestic Airport in Buenos Aires before catching a 2 hour domestic flight to San Carlos de Bariloche, just 19km away.

By Train, Nearest Railway Stations.
There are fairly regular trains from Buenos Aires to San Carlos de Bariloche via Viedma, they take around 24 hours for the 1,400km journey, good option if you want to watch the World go by.

By Road, Driving, Bus and Transfers.
A scenic drive over the Puyehue Pass from neighbouring Chile brings you to Grand Catedral.
Buses from Buenos Aires take 30+ hours and include a transfer at San Martín de los Andes. You'd need to be fairly dedicated to take this option, although it is the cheapest.
Buses, Taxis and Remise (a shared, chauffeured car) are available for the last, short leg of the journey from San Carlos de Bariloche, airport or downtown, to Catedral. You could drive to the resort, although be advised that there are parking charges.