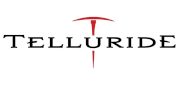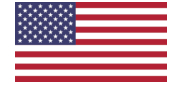 Situated among the highest concentration of 14,000 foot peaks in North America. Telluride's spectacular scenery is undeniably some of the most beautiful in the Rockies. Historic buildings, quaint bakeries and local watering holes blend with luxury hotels, five-star restaurants, sophisticated shops and some of the finest spas in the world.
The History of Telluride.
The old mining town of Telluride, tucked away in a remote corner of the San Juan mountains, has a more colourful history and more present-day charm than any resort in North America.Telluride is rapidly developing into a serious rival to Aspen and Vail as the smartest ski resort in the Rockies.
The San Miguel Valley Bank was relieved of $24,000 by Butch Cassidy and the Sundance Kid in 1899. Jack Dempsey washed dishes in a brothel before finding his fistful of dollars elsewhere. Telluride built a power station in the 1890s and as a result became the first town in the world to be lit by electricity.
The extra-wide streets of Telluride, with their beautifully preserved Victorian buildings were designed so that a carter could turn a full team of oxen. At the height of the gold rush, 5,000 miners crowded into the town, which supported one hotel and 100 brothels!
The Skiing Future of Telluride.
The opening of Black Iron Bowl added to Telluride's reputation for legendary terrain. Black Iron Bowl can only be accessed on foot and is set against the dramatic backdrop of Palmyra Peak. It added eight runs to the adjacent Prospect Bowl: These include the wide-open Mountain Quail couloir, European-style faces, open glades and steep chutes.
You can either stay in town or in the ski convenient and rapidly expanding Mountain Village linked by a gondola that runs from 7am to midnight. The village is already home to one five star hotel and luxurious condos.
A new Four Seasons and a St Regis are under construction – indicating the kind of clientele to which Telluride aspires. The modest-size area – it has 15 lifts and 1,700 acres of terrain – suits all standards, with good novice slopes, lots of gladed intermediate cruisers, and some dramatic and easily accessible steeps.
There is more information about Telluride ski resort here.
Ski Trail Maps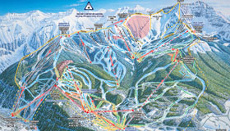 Telluride in Brief
Altitude:
2,650 – 3,730m (8,690 – 12,240ft).
---
Number of Ski Lifts: 18 – 2 high-speed gondolas, 7 high-speed quads, 1 quad, 2 triples, 2 doubles, 2 surface lifts and 2 magic carpets.
Vertical Drop: 4,425feet (1,349m)
---
Number of Ski Runs; 125
Types of Ski Runs: 24% beginners, 38% intermediate, 38% advanced.
Skiable Terrain; 2,000+acres.
Longest Ski Run: 4.6miles / 7.4km – "Galloping Goose".
---
Main Advantages:
Town close to ski slope; lively downtown area; dramatic setting.
---
Drawbacks:
Difficult access as resort is isolated; limited number of mountain restaurants.
---
Check out the latest information on Telluride ski resort here.