The Best Ski Resorts In Austria.

With the Alps covering most of the country, well laid out slopes, excellent mountain facilities, modern lift systems, Austria is one of Europe's top ski destinations.
Austrian ski villages can be chocolate-box pretty, with good, reasonably priced accommodation.
The downside is that many of the best ski resorts in Austria are at mid-altitude, so the snow can be a bit sketchy.
Winter Driving In Austria.
All vehicles driving on snow-covered roads must have winter or all season tyres from Nov 1 to April 15. Snow chains are not compulsory, except when advised.
---
Speed limits in Austria.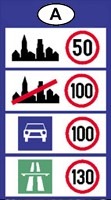 ---
Motorway Tolls in Austria.
Vignettes are required for use of motorways and expressways for all vehicles of up to 3.5 tons. Drivers without a valid vignette can be fined, typically €110 to €240. A Vignette can be bought from any petrol station as you approach Austria and are valid for 10 days, 2 months or a year.
Special Toll Routes.
A9 Pyhrn Motorway
A10 Tauern Motorway
A11 Karawanken Motorway
A13 Brenner Motorway
S16 Arlberg Expressway