Zermatt Ski Resort Review | 2018.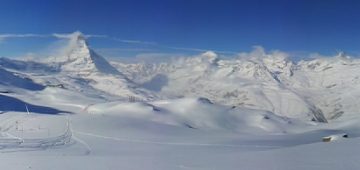 Zermatt ski resort is a pedestrian only town. The only means of transport within the town itself are small electric taxis and buses. Most of the tourist accommodation will arrange transport of you and your luggage from your arrival point.
Accommodation Zermatt.
Zermatt has more than 120 hotels, most of which are family owned and run.
The Omnia.
Auf dem Fels. +41 (0)27 966 7171. the-omnia.com
Chic boutique hotel. Fitness room.Indoor and outdoor pool, Finnish sauna. Turkish bath and more…
The Alpine Residence, Hotel Mirabeau.
Untere Mattenstrasse 12-14. +41 (0)27 966 26 60.
The Alpine Residence, located within the four-star Hotel Mirabeau, offers a selection of luxurious suites with fantastic views of the Matterhorn. The ultra chic luxury suite in the attic comes complete with an open fire, double whirlpool and large, south-facing balcony.
Aparthotel Zurbriggen.
+41 (0)27 966 38 38.
The all-time great Swiss downhill skier Pirmin Zurbriggen owns these slick, spacious apartments in the centre of town. Zurbriggen had 40 World Cup victories and won five gold medals for his skiing. The property reflects his attention to detail and passion for Zermatt. Breakfast is provided but you're free to dine out in Zermatt's renowned restaurants in the evening.
Hotel Alex.
Bodmenstrasse 12. +41 (0)27 966 70 70. hotelalexzermatt.com
This friendly, family-run four-star hotel is located right by the lifts, it has a large pool and a restaurant with a good reputation.
Riffelalp Resort at 2,222m.
+41 (0)27 966 05 55.
The five-star Riffelalp Resort is located on the Riffelalp mountain and is ideal for those looking for incomparable views and fresh snow every morning. Accommodation is half-board, but there's also a 'Dine Around' programme, allowing you to dine in selected restaurants in Zermatt.
The Matterhorn Hostel.
Located in the centre of the village, cheap clean rooms, sleeping from 2 to 8, with shared bathroom facilities. The hostel has a communal lounge, games room, locker, internet access, a bar and restaurant
Cervo.
A boutique hotel near the Sunnegga funicular.

Ski Hire Zermatt.
There are plenty of high quality ski hire and equipment rental shops in Zermatt. All offer the latest equipment and a range of rental packages.
Azzurra Sport: Riedstrasse 10, 3920 Zermatt. +41 (0)27 967 13 22. azzurrasport.ch.
Bayard Sport & Fashion: Patricia Aufdenblatten-Bayard Bahnhofstrasse 35 3920 Zermatt. +41 (0)27 966 49 60..bayardzermatt.ch.
Dorsaz Sport: Geschwister Dorsaz, Schluhmattstrasse 121, Talstation Matterhorn Glacier Paradise, 3920 Zermatt. +41 (0)27 966 38 10. dorsaz-sport.ch.
Flexrent Sport Equipment: Bernhard Perren, Matterstrasse 25, Talstation Rothorn, 3920 Zermatt. +41 (0)27 933 49 19. flexrent.ch.
Glacier Sport: Viktor Guntern, Bahnhofstrasse 19, 3920 Zermatt. +41 (0)27 968 13 00. glacier-intersport.ch.
Julem Sport: Martin Julen, Hofmattstrasse 4, 3920 Zermatt. +41 (0)27 967 43 40.
Matterhorn Sport: Hans- Josef Julen, Bahnhofstrasse 78, 3920 Zermatt. They operate in conjunction with skiset.co.uk. +41 (0)27 967 29 56. matterhornsport.ch.
Slalom Sport: Gebrüder Julen, Schluhmattstr 3, 3920 Zermatt, +41 (0)27 966 23 65. slalom-sport.ch.
Triftbach Sport: Josef und Hans Julen, Oberdorfstrasse 16, 3920 Zermatt. +41 (0)27 967 47 48.

Restaurants in Zermatt.
Zermatt has over 50 mountain restaurants, many of which can be reached on foot. For self-service: Sunegga, Riffelberg and Trockner Steg. For table service Chez Vrony at Findeln, Aroleid or Vis-aVis on the Gonergrat.
Zermatt town has more than 100 restaurants, from traditional Swiss serving cheese specialties, to French, Italian, German, Chinese, Japanese, Thai and Mediterranean.
A Selection of Resort Restaurants.
Whymperstube.
Bahnhofstrasse 80. +41 (0)27 966 03 33. A cosy restaurant in the top-end Monte Rosa Hotel that serves fondues and other Swiss specialities.
Le Mazot.
Hofmattstrasse 23. +41 (0)27 966 06 06. A small, romantic restaurant that overlooks the river and is well known for its superb, melt-in-the-mouth lamb. Good wine list. Bookings essential.
Spycher.
Steinmattweg 7. +41 (0)27 967 77 41. Located on the other side of the river to Le Mazot, Spycher serves Alpine-Mediterranean cuisine, including some excellent fresh fish dishes.
Chez Vrony, Findeln.
+41 (0)27 967 25 52. Treat yourself to at least one meal in Chez Vrony on Rothorn mountain – one of Zermatt's many culinary institutions. The Julen family have owned this charming mountain hut for more than 100 years and serve entirely organic food. The delicious dried meats and homemade sausages are made following time-honoured family recipes. Reservations essential.
Zum See, Furi.
+41 (0)27 967 20 45. A classic Zermatt mountain restaurant, and one of the best in the area. Zum See is located just below Furi, a hamlet above Zermatt that's accessed by skiing or walking down from the cable car's mid-station. There's a large sun terrace that gets really lively in fine weather while the restaurant is a cosy haven on stormy days. Reservations essential.
Restaurant du Pont.
At the top of the main street, serves tasty roesti and viande sechee.

A Selection of Après Ski bars and Clubs.
Apres ski Zermatt style starts on the mountain at Simi, Hennu Stall and Zum See towards Furi and Othmar's Hütte and Olympic Bar on Rothorn/Sunnegga.
Locals head for North Wall Bar, Brown Cow and Papperla, all of which stay open late.
GramPi's, Hotel Poste, incorporates an array of restaurants, bars and the cave disco all under one roof. Try Papa Caesar Lounge on the first floor. grampis.ch.
Pollox T-Bar, another disco, and also a late-night venue.
Elsie's Ba and Joseph's Wine Bar (Hotel Mirabeau) are popular with more mature visitors.
The über-trendy Vernissage, above the cinema, is ideal for cocktails and light snacks.
Snowboat Caffe, looks like a boat with a sundeck.

Non Skiing Activities Zermatt.
Sledding & Tobogganing.
There 3 toboggan runs: Rotendoden 1.5km, Täsch 3.6km and Randa 0.2km.
Rotenboden: Catch the Gornergrat train to Rotenboden Station. Toboggans can be hired at Rotenboden Station, then enjoy the 10 minute run down to Riffelberg Station.
Randa: Near the centre of the village, this toboggan run is ideal for families with children, as it is not too steep or too long.
Täsch: This is the hardest and longest of the three runs, reached on foot, up the slope just before Eggstadel.
Snow Shoe & Winter Walking Trails.
There is 65km of groomed winter walking and snowshoe tracks. 20km of which are above the villages of Täsch and Randa.
Ice-skating and curling.
There are ice rinks in the centre of Zermatt for Scottish or Bavarian curling and for ice-skating.
Ice climbing.
If the winter is cold enough, there are many places where it is possible to climb frozen water falls.
Matterhorn Museum.
The museum shows the development of Zermatt from a farming village to a world renowned Alpine Mountain Resort as well as original houses, multimedia room and objects from the first ascent of the Matterhorn.
The Vernissage Cinema
The Cinema shows current blockbusters films..
Indoor Climbing.
Triftbachhalle: 7m high and with a total surface area of 140 square metres.
3100 Kulmhotel Gornergrat.
Take the cog railway to the highest altitude hotel in Switzerland, the 3100 Kulmhotel Gornergrat, complete with restaurant, observatory and shopping mall.

NOTE: Ski Resorts change all the time. This review may now be out of date and some of the information may be inaccurate. Please visit the official ski resort site for Zermatt for the latest information.

For the latest reviews and information from Zermatt read our blog entries.
For information about skiing in Zermatt visit this page.

If you don't want to miss any of my blog posts on the latest ski offers, news and information, make sure you follow me on Twitter or Facebook. I'd also welcome any ideas for future posts. Please send me any ski news and updates that you know about. Thank you.