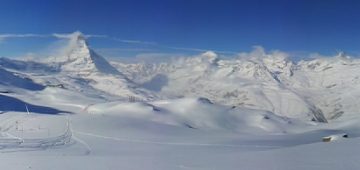 Zermatt Mountains Landscape, Switzerland, one of the best ski resorts in the Alps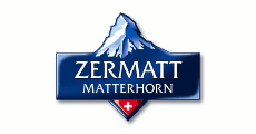 Zematt Ski Resort.
"Fantastic skiing, vertical drop and accommodation but close enough not to be "pisted" off at the size of your carbon footprint!"

Hazel
The Swiss Ski Resort of Zematt is surrounded by the dramatic peaks of some of Europe's highest mountains, including the Dom, Monte Rosa and the Matterhorn. Zermatt enjoys one of the longest ski seasons in the Alps and is a world without cars, electric-cars and horse-drawn sleighs and carriages are the only transport allowed.
As part of The Ski Matterhorn Paradise, skiers in Zermatt have access to 360km of pistes, linking to Breuil Cervina & Valtoumenche in Itay. The Klein Matterhorn ski lifts go up to an altitude of 3,883m, the highest cable car station in Europe.
Ski Touring, Freeriding, and Heli-skiing.
For freeriders, who wish to ski in secured areas, the Matterhorn ski paradise has 36km of non-prepared pistes, most of these are found in the Rothorn and Stockhorn areas. Air Zermatt, with it's modern fleet of helicopters, offers heli-skiing as well as sight seeing flights, airport transport and most importantly mountain rescue.
The Theodul Glacier has 21km of Summer skiing, providing skiing 365 days a year. The Theodul Glacier is also accessible from Cervina, Italy.

Piste Map.

Getting To Zermatt.

By Plane.
Most International flights into Switzerland arrive at either Geneva or Zürich airports. Geneva is slightly closer to Zermatt.
Zurich Airport: 3.5hrs
Geneva Airport: 3.5hrs
Both airports are superbly organised and fully integrated into the Swiss rail network. Arriving at either airport, one can simply check luggage and skis directly through to Zermatt, and board a train (under the airport terminal) within the hour.
Basel, Bern (and now Sion) airports also service some intra-European flights. Milan in Italy is also relatively convenient to Zermatt (4 hrs).

By Train.
The Swiss Rail network is efficient and convenient way to travel within Switzerland. Trains are clean, fast, reliable and frequent and the journey to Zermatt is also beautiful and memorable in itself.
There are frequent trains to Zermatt from Zurich and Geneva. From Zurich change trains at Visp, from Geneva change trains at Brig.
At Brig (or Visp) take the scenic little BVZ (Brig-Visp-Zermatt) cog-wheel train for rest of the journey up the valley.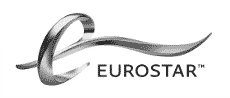 By Train From the UK.
Eurostar runs ski trains to the Swiss Alps. Taking 10 hours from St Pancras to Visp, with a change at Lille.
The Matterhorn Gotthard Railway has direct connections form Visp to Zermatt – 1.5 hours journey time.

By Road:
Getting to Switzerland by road is simple, since there are fast, well-maintained motorways through all surrounding countries. Within Switzerland roads are well-maintained, well sign posted and generally not congested.
Zermatt is in southern Switzerland, at the end of the remote and beautiful Zermatt/Visp valley. Motorists can drive as far as Täsch. The last 7 kilometres must be travelled by train or taxi.
The advantage of traveling by taxi is that you can unload your luggage directly from your car into the taxi.
In winter it is necessary to reserve your parking space well in advance: call. +41 (0)27 967 15 50. Some free parking places are available in Visp for motorists wishing to continue by rail.
Driving time to Zermatt is 3.5hrs (144miles) from Geneva, 4.5hrs (156miles) from Zürich, 4hrs from Milan in Italy.
Car Hire – Chains & Tyres.
If you are hiring a car, check that they have snow chains and snow tyres (usually payable locally) and check that you have the snow chains in the car before leaving. Also ensure that you know how to put the chains on!

Zermatt in Brief.
Altitude:
Zermatt: 1,620 – 3,820m (5,320 – 12,530ft).
Cervinia: 2,050 – 3,460m (6,730 – 11,350ft).
---
No. of Ski Lifts:
52 (including Cervina).
---
Types of Ski Pistes:
33% beginner, 41% intermediate, 26% advanced.
---
Main Resort Advantages:
Beautiful scenery; traditional Alpine village; large selection of restaurants; car-free; linked to Cervinia.
---
Drawbacks:
Spread-out ski area; accommodation can be far from slopes.; purpose-built village in Cervinia unattractive.
---

For the latest reviews and information from Zematt read our blog entries.
For information about skiing in Zermatt visit this page.