St Anton Ski Resort Review | 2018.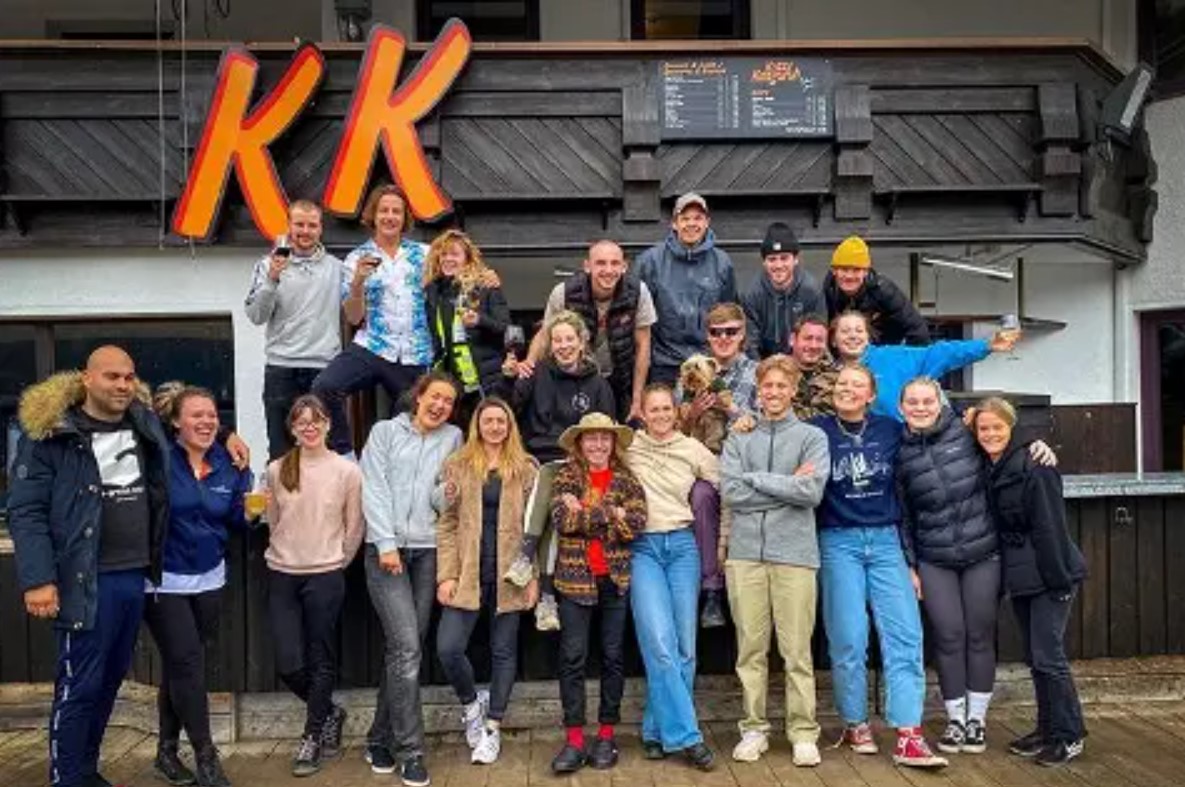 Accommodation St Anton.
Hotel Accommodation St Anton.
Three Star Hotels in St Anton
Hotel Garni Keim. hotel-garni-keim.at.
Hotel Garni Angelika. B&B, 25 rooms. +43 5446 2254. arlberg.com/hotel.angelika
Hotel Gasthof Traube.
Hotel Grissemann.
Private B&Bs
Pension Klimmer Walter.
Pension Astrid.
Accommodation In Lech.
5 Star
Hotel Arlberg Lech 187, AT-6764, Lech. +43(5583)21340.
Romantik Hotel Krone Dorf 13, AT-6764, Lech am Arlberg. +43(5583)2551
Hotel Gasthof Post Relais & Châteaux, AT-6764, Lech am Arlberg. +43(0043) 22060
4 Star
Hotel Adler Palma Zug 344, AT-6764, Lech am Arlberg. +43(5583)2757
Hotel Alpenland Anger 198, AT-6764, Lech am Arlberg. +43(5583)2351
Hotel-Pension Alpenrose Oberstubenbach 237, AT-6764, Lech am Arlberg. +43(5583)2292
3 Star
Pension Alpenfluh Tannberg 64 + 489, AT-6764, Lech am Arlberg Tel: +43(5583)2891
Gasthof Alphorn Zug Hnr. 449, AT-6764, Lech am Arlberg Tel: +43(5583)2750
Hotel-Pension Alt Hubertus Anger 441, AT-6764, Lech am Arlberg Tel: +43 5583 2128

Ski Hire St Anton.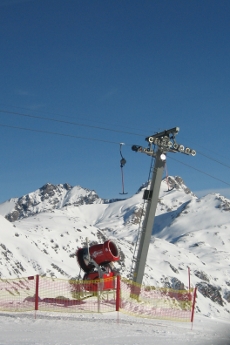 Sport Fauner
Located opposite the tourist office, Sport Fauner is a family run business and has been present in St Anton for years.
Sporthaus Jennewein Sport 2000
Arlbergright next to the Galzig Bahn.
Ski In Nasserein Sport 2000
Nassereinbahn Talstation. St. Anton
Jennewein Surferparadise
Tescenter Galzig.
Ski In Dorf Sport 2000
Hotel Anton. St. Anton.
Supa Nasserein Sport 2000
Nassereinstrasse 6. St. Anton.

Skiing Off Piste St Anton am Arlberg.
Off Piste St Anton.
There are plenty of opportunities to ski unpisted snow throughout the St Anton ski resort, especially either side of the high altitude ski routes Schindlerkar and Mattun.
Here you'll see successive lines cut by skiers traversing high and wide in search of good lines back down to the main ski route. But with so many off piste powder hounds around you need to be quick off the mark to find fresh tracks in these high traffic areas.
In St Anton and throughout the Arlberg there is plenty of scope to practice your off piste technique between the pistes without engaging in the big adventures further afield, but even between the pistes you are entering avalanche terrain so knowledge of avalanche risk and mountain safety is essential and be mindful of the fact that the majority of skier related avalanche fatalities happen a short distance from the pisted runs.
Galzig – Off Piste St Anton.
The Galzig ski area is reached by cable car from St. Anton and offers excellent off piste ski terrain, but you'll need to be quick here, as Galzig attracts heavy skier traffic on a powder day, especially when the higher slopes of the Valluga and Schindler are closed due to wind or avalanche risk.
Straight off the cable car, you're faced with numerous options. First off the bat is Zwischen which is sandwiched between Ostang (Blue 5) and Kandahar (Black 2). Here you'll find powder slopes and challenging lines between the trees which will bring you out close to Feldherrnhugel lift. Backseite is the Galzig classic, it's north facing, steep and perfect for developing off piste technique on steeper terrain.
Zammermoos affords easier access to the steepest terrain and on a powder day you can make excellent laps using either the Feldherrnhugel or Zammermoose lifts and heading right at the top.
Rendl – Off Piste St Anton.
The Rendl ski area on the opposite side of the valley is accessed from the Rendlbahn gondola station just a 2-minute bus ride from St Anton. The off-piste skiing at Rendl is a personal favourite and often used for guiding due to its variable terrain and predictable snow. There is good off piste skiing between the pistes left and right of the Maass Bahn, where you'll find gentle slopes meandering through the trees; always a favourite area during stormy days as the trees help with the visibility.
Moving higher up the mountain, take the Gampberg six-man chair lift and ski right, skiing the line under the chair lift, it's long and perfect for getting into that powder rhythm, you can either traverse out left back to the piste or continue further for more fall line turns to reach the Tobel T-bar which will take you back to the restaurant area.
Off the Back of the Valluga – off piste St Anton.
St. Anton's 'off the back' is legend and can be crowded on a powder day, but these 'must do' descents are worth skiing even many days after a fresh snow fall, especially the mighty Valluga descent to Zürs.
The gut-wrenching Valluga summit descent into the Paziel-Tal to Zurs is world famous for being one of the "must ski" off-piste descents accessible from a lift station and justifiably so. This awesome off- piste descent is certainly not for the faint hearted! A small gondola carries sightseers and skiers to the observation platform at the Valluga summit, but for safety sake only those accompanied by a qualified guide are allowed to take their skis or board to the summit.
From the exposed summit the slopes on all sides disappear into the abyss and the first timer is not quite sure where they should begin to ski as they are faced with a convex slope and what appears to be a labyrinth of cliffs and rocks. It may help to consider that an experienced mountain guide is unlikely to allow you to attempt the descent unless already satisfied as to your skiing ability and the fact of the matter is that nervously straining your eyes will not make this gut-wrenching descent any easier so best to relax, enjoy the scenery and pretend you are not a little bit afraid.
Following the local St Anton guide's careful instructions the descent begins with an option of two variations from the summit.
The classic Valluga North Face (variante 1).
This route begins with tight turns in the fall line on the far left of the face, where a tenuous traverse leads right; here great attention is needed as a fall could end in a rocket slide leading to cliff which one would not wish to visit twice. A traverse right, then a traverse left leads to elation among the group as the first obstacle is over and the terrain now looks almost enjoyable. Now only wonderful turns lie ahead but care is again exercised to avoid the 40 meter cliff at its base. During this adrenaline surging skiing try to stay relaxed, look up form the tips of your skis and enjoy your skiing while marvelling at the view ahead.
Once you've gained the col splitting the two dominant summits of Valluga and Rogspitze, you cast your eyes back to what you've skied and either thank your luck you survived or ask your guide when you can ski it again! The scenery here is dramatic with two towering summits overhead creating an intimidating yet a marvellous atmosphere. Skiing away from the col you're now faced with seemingly endless powder slopes down to Zürs.
The second option from the summit, Valluga Bridge Couloir (variante 2).
This route is equally exciting and, to add to the adventure, your elementary mountaineering skills and head for heights will be put to the test as you make your way down the roped steps to gain the old wooden Bridge that spans the famous "Bridge Couloir". After a step down under the wooden planks of the bridge, a tight 40 degree couloir requires expert technique in jump turns. After 15 turns the couloir disappears around a left banking corner before finally opening up into the wide west slope of the Valluga, where sweeping turns lead you to a meeting point safely at the base of the west face. A short traverse north west leads you around a hidden corner to open up a treasure of powder and adventure running all the way to the Zürs ski area.

St Anton Après Ski on the Piste.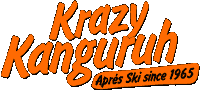 The Krazy Kangaruh.
The Krazy Kangaruh opened in 1965 as St Anton's first après ski bar. Seasonaire's Thursday hangout. On red 23 from the Gampen. Can traverse across from Blue 1 as long as you see the sign. Austrian specialties – try the homemade beef soup with dumplings or a beer on the way home. Food served from 11am to 6pm.
+43 (0)5446 2633. krazykanguruh.com
Taps.
Next to the Krazy Kangaruh, slightly quieter, still have to ski home from it. Holds the annual Antoner's races in April.

The Mooserwirt.
Fun starts at 3 in the afternoon and earlier. Ends when it feels like it. More beer sold here than anywhere else in Austria by all accounts, it's certainly packed for the complete season.
+43 (0)5446 3588. mooserwirt.at

The Sennhutte.
Schnapps, beer, dancing on tables, Austrian music from accordions and DJs. Just off Blue 1 before you head towards the Mooserwirt a bit lower down.
+43 (0)5446 2048. sennsationell.at
St Anton's Mountain Restaurants.
Alibi Bar
Food music, various draft beers. Guinness, Kilkenny, Wieselburger, Edelweiss Hefe. Popular meeting spot.
Dorfstraße 78. +43 (5446) 3172
Anton Bar
This modern bar is located at the valley station of the Galzigbahn. Daily après-ski with top DJ's.
Hannes-Schneider-Weg 4. +43 (5446) 2408
Bar Cuba
Sports bar, with chill out après ski sessions from 04.00 pm. Showing all major sporting events live on big screens. An international drinks menu with great cocktails – try the aquamarine "Cuban Cocaine", snacks include pies, panini and hot dogs.
Dorfstraße 33. +43 664 6523886
Beer & More
Located in the middle of the Nasserein area.
Hotel Nassereinerhof Nassereinerstraße 1. +43 (5446) 3366
Billiard Bar
Billiard, soccer and darts daily from 6.00 pm to midnight.
Dorfstraße 48. +43 (5446) 3172
Bobo's
Bar and Tex Mex restaurant – occasional live music, cocktails. In the pedestrian zone. Opening hours – winter: daily from 5.00 pm til 2.00am.
Dorfstraße 60. +43 (5446) 2714-54
Bodeqa
Opened daily from 3.00 pm to 1.00 am.
Dorfstraße 38. +43 (5446) 42788
Hazienda
Restaurant & bar with open fireplace. Restaurant serves meals til 11:00 pm, then over to the bar. Specialties: homemade pasta dishes, steaks, fish.
Dorfstraße 56. +43 (5446) 2968
Jacksy's Bar
English style pub, music draft beer, draft Guinness, draft Kilkenny, draft Weizen, cocktails, brandies, snacks.
Open 4:00 pm – 2:00 am.
Im Gries 5. +43 664 9959599
Piccadilly
British style pub, Front bar with live music every day from 4:00 pm.
Dorfstraße 2. +43 (5446) 2213-276
Platz'l Bar
Rustic style, open fire. Live music 10:00 pm – 2:00 am. Pizzas, pasta and cocktails, 7:00 – 10:00 pm.
Dorfstraße 3. +43 (5446) 2169
Pub 37
Im Gries 4. +43 (5446) 2965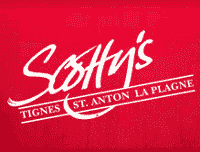 Scotty's Bar
Happy Hour every day! Huge selection of cocktails and shots and vodka. Part of the Mark Warner Club Hotel Rosanna. Heinous drinks of all colours! Home of the Turbo Rum Death and a bi weekly fancy dress.
Arlberg Straße 63. +43 (5446) 2400
The Funky Chicken
Inexpensive roast chicken restaurant, bar, pub, Indian curries, frozen Margaritas and funky music. Take-out service for your party at home. Margarita happy hour 11:00 pm til midnight.
Dorfstraße 7. +43 664 4043360
Train
Im Gries 10. +43 (5446) 2720
Vino Lounge
Dorfstraße 35. +43 (5446) 22440
Five Mountain Restaurants.
Arlberg Taja. St. Christoph. Old-fashioned, rustic snow bar with large sun terrace & lounge chairs. Cozy meeting spot for locals and guests. Various snacks: Grandma's cheese dumplings, homemade apple strudel. St. Christoph Hnr. 20. +43 664 3806086
Bifang Alm. In the Rendl ski area. Lunch, open fire, ice bar, sun terrace, lounge chairs, après-ski party. Every Thursday and Friday evening, special fondue and "hot stone" specialties. 6580 St. Anton am Arlberg. +43 5446 3023
Galzig – Bela Vita. On the Galzig Mountain – Accessed by the Galzig gondola. Individually prepared pizza, a freshly made lasagna or tasty pasta dish tastes divine up at 2000 meters altitude, accompanied by Italian wine. +43 (5446) 2352501
Gampen. On the Gampen Mountain – at the top of the 4 man Gampenbahn and Nasserien Gondola. Salads, homemade desserts, Tyrolean and international cuisine. Children's Restaurant. Tuesday and Thursday evenings, hut magic, then swish down the 4.3-km long nature sled run to the valley. +43 (5446) 2352532
Heustadl. Im Dengert. +43 0664 5016635
Five More Mountain Restaurants.
Kapall Stube. Great panorama. Small self-service restaurant. Homemade strudel, Tyrolean and international food. Situated at the top of the Kapellbahn 6 man chair. +43 (5446) 2352532
Rendl. Self Service. 2030m the Rendle Mountain. Wok-dishes with freshly prepared fish and vegetable specialties. Wild fun at the ice bar, especially on Tuesdays and Thursdays with partytime and live music and DJs.
Children's restaurant Rendelalm A separate kingdom for the kids, with special dishes and lots of room to play, supervision included. +43 (5446) 2352-550
Rodelalm. On Piste Fang. Original Tyrolean mountain hut with open fireplace, sun terrace. Open 11:00 am – midnight. Sled rental, nature sled run. Specialties: pork shanks, Tyrolean Gröstl, Kaiserschmarren, spare ribs (on prior arrangement). +43 699 10858855
Ulmerhutte. Ice bar, table service with good home cooking, lounge chair rental, sun terrace at 2288 meters. +43 (5446) 30200
The Remaining Mountain Restaurants.
Valluga. At 2800 meters amazing views and the Arlberg's longest ski run. Situated at the top of the Vallugabhn 1 Gondola. Bergstation Vallugabahn. +43 (5446) 2352501
Albona Bergrestaurant. 2400m. Accessed via Albonagratbahn 2 man chair. 6762- Stuben. +43 5582 55017 24
Albona – Midstation. 1840m. Accessed via Albonabahn 2 man chair from Stuben. 6762- Stuben. +43 5582 55017

Non Skiing Activities St Anton.
Internet Cafés: Mailbox on main street. Extra mailbox terminal in Surfers Paradise.
Ice skating or Curling: at the ARLBERG-well centre, along with 3 swimming pools, sauna and steambaths.
Tobogganing: In the Nasserein area of St Anton, covering a 500m difference in altitude. The toboggan run operates during the day between noon & 4.30pm with evening toboggan runs every Tuesday & Thursday between 7.30 & 9.30pm. Toboggan rental is available at the bottom of the Nasserein base lift.
Horse Drawn Sleigh Rides: Take a horse drawn sleigh ride into the picturesque Ferwall valley, on arrival relax with some coffee and homemade cake. Departures are from the hotel Mooserkreuz
Tennis, Squash, Bowling, Climbing: From the winter season 2008/2009 St Anton will have a new Mulit Functional Sports Centre, which will include: Tennis courts, a four lane bowling alley, a squash court, indoor door climbing, bouldering.
Paragliding
Snowshoeing
Shopping in St Anton.
Shopping along St Anton's pedestrianised main street is a little touristy, although quite laid-back, with plenty of cosy bars and cafes where shoppers can rest their feet. Shops tend to be expensive, but the quality of merchandise is good. There are numerous ski wear and ski equipment outlets stocking the name-brand goods, but also good jewelers, music stores, antique stores and clothing boutiques.

NOTE: Ski Resorts change all the time. This review may now be out of date and some of the information may be inaccurate. Please visit the official ski resort site for St Anton for the latest information.

If you don't want to miss any of my blog posts on the latest ski offers, news and information, make sure you follow me on Twitter or Facebook. I'd also welcome any ideas for future posts. Please send me any ski news and updates that you know about. Thank you.