Gulmarg. One of the Best Ski Resorts in Kashmir, India.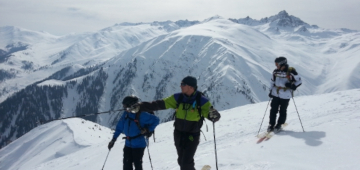 In years' past, a ski trip to India's Kashmir province would have had 'niche' written all over it. But now, locations such as Japan, Russia and New Zealand have become real options for adventurous skiers and snowboarders. So, India isn't as far-fetched as it first appears.
Gulmarg, an old Raj Hill Station, is one of the Best Ski Resorts in India. It has reinvented itself as a ski resort, boasting the highest gondola on earth and guaranteed Himalayan snow. You can expect ludicrously empty slopes, epic scenery and unrivaled snow quality at 4,000m.
However, beware, the lifts are plagued by intermittent power supplies and the ski patrols have only limited access to avalanche control explosives! The upper slopes are almost exclusively used by expert skiers.
Getting to Kashmir and Gulmarg.
Direct Bus from Delhi: Direct 'luxury' buses depart Delhi from Connaught Place and Old Delhi daily. The journey takes between 24 and 32 hours with lots of breaks. Tickets should be available from most travel agents in Delhi. In the event of bad weather, it is possible that this service could be suspended or held up en route to Kashmir.
Air from Delhi: Srinagar is 398 miles, with an average one hour flight time from Delhi. Srinagar also has flights from Leh in Ladakh. Flights are also possible from Jammu to Srinagar.
Train from Delhi to Jammu: It is possible to take a train from New Delhi train station to Jammu (11-15hrs), and even 60km further to Udhampur which is on the road to Srinigar.
Shared Taxi from Jammu to Srinagar: The taxi takes 9 to 12 hours. You can find a shared taxi to Srinagar around Jammu's bus and coach station where the drivers' agents will come to you. You should plan to get out of Jammu on the same day you arrive, staying overnight is not recommended. It is possible to take a shared white sumo taxi to Srinagar and arrive in Srinagar in the evening.
Taxi from Srinagar to Gulmarg: Besides the taxi option there is reportedly also a helicopter service from Srinagar airport to Gulmarg.
Booking a Ski Package to Gulmarg.
For packaged trips with people with good local knowledge, try:
Skiing in India is arguably not among the best skiing to be had in the World. However, you might want to put a trip to Gulmarg, India on your list. Especially if you are a dedicated off-piste skier and delight in the freedom of pristine conditions.

If you don't want to miss any of my blog posts on the latest ski offers, news and information, make sure you sign up for Ski Alerts. We will not share your data with others and will only send you about two emails a month.