The Best Ski Resorts Outside Of Europe & North America
The World's Best Ski Resorts are not all in Europe and North America, Japan alone boasts hundreds of different resorts, Chile and Argentina offer fantastic skiing in an incredibly diverse landscape, while New Zealand and Australia add to the diversity.
The Best Summer Skiing In Europe
The Hintertux Glacier, Austria
The Hintertux Glacier with it's 86km of pistes, at altitudes between 1,500 to 3,250m, is Austria's only year round ski area: Making it the best summer ski destination in Austria.
The Stelvio Pass, Italy
The Stelvio Pass is open from the end of May until November. During the winter the Stevio Pass itself is closed due to avalanche conditions, the opening of the road marks the start of the summer ski season.
Les Deux Alpes, France
Les Deux Alpes has a 120 hectare glacier, at altitudes between 2,900m and 3,600m. The pistes are mostly graded blue and are not too demanding, however the summer ski season is short; 22nd June to 31st August.
Zermatt, Switzerland
The Zermatt Theodul Glacier has 21 km of pistes for summer skiing, views of the Matterhorn and European national ski teams training. The Glacier is also reachable by cable car from Cervina, Italy.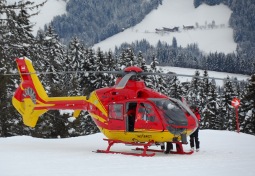 Mountain Rescue Helicopter