Where to go to Avoid Half-Term Ski Queues | Buchensteinwand.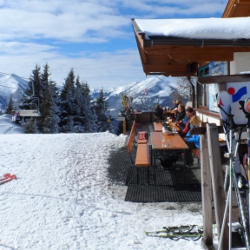 Groovin' on a Sunday Afternoon.
pop quiz: the kids from the 60s were a bit naughty.
So (some say), the busiest day of the ski season is February half-term Sunday: The thought of queues and 'beginner slalom' fills you with dread, but you still want to go skiing, what to do? Go to Buchensteinwand.
We opted for St. Jakob in Haus aka Buchensteinwand, on the map it is part of Schneewinkel Ski Resorts Area, but with just two chair lifts, a handful of T-bars and just 22km of pistes, you might think that it hardly seems worth the effort, but you'd be wrong.
With lessons not starting until 10am, but lifts opening at 8.30am, we had an hour and a half of the mountain pretty much to ourselves, cruising the freshly groomed pistes with no one else around – on today of all days.
We stopped for coffee whilst all the beginners got themselves into groups and on to lifts and then headed to the reds and black (note singular!) where we still encountered no queues and empty pistes.
Ten Reasons to Ski Buchensteinwand Ski Resort
No queues
Fresh tracks for over an hour
Two coffees for less than 5 Euro
No coach-loads of Germans from Munich
Empty red and black pistes
They have kept the snow in remarkably good condition
Itinerary route which is not over skied
Chips and Ketchup for 3 Euro 50
Only 32 Euro 50 for a day pass (but included in Schneewinkel, Kitzbuheler AllStarCard, Salzburg SuperSkiCard and Tirol SnowCard)
It's a short drive from many other places, or Free ski bus
pop trivia: "There ain't a place I'd like to be instead, Groovin' on a Sunday Afternoon" from the 1967 hit Groovin' by the Young Rascals