It is Time to Consider Japan Skiing as Your Next Destination.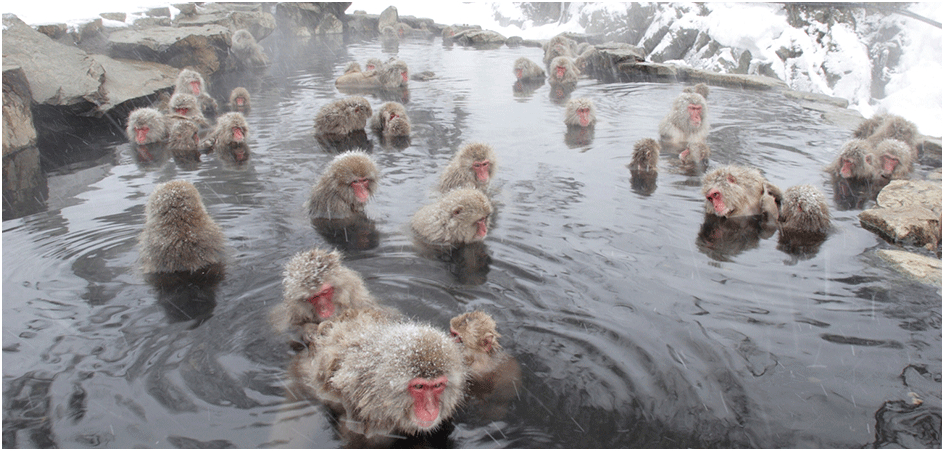 Crystal Bits of Snowflakes.
pop quiz: the lyric above is from what song and artist? clue: be forever young in the German main town.
Over the past 15 years, Japan has seen a huge increase in British skiers keen to experience their famous powder. Japan enjoys consistent powder conditions. You can expect a huge amount of it, 14 metres in fact, taking you through from Christmas until late March.
My guest blog this month comes from Rupert Longsdon, founder and MD of The Oxford Ski Company. He challenged his team to explore and understand the nuances of skiing in Japan. Now they can deliver their trademark knowledge, personal service and passion for skiing. Hence their introduction of three top ski destinations in Japan; Niseko, Hakuba and Nozawa Onsen, to their portfolio.
Here they share some of that knowledge with us; over to the Oxford Ski Company team…
Why you should Ski in Japan.
Quite simply, the skiing is superb. Everything you have heard about this being a skier's paradise is true (and, if anything, is likely to be understated!). Renowned for some of the best powder skiing in the world. Most Japanese ski resorts get between 10 to 18 metres of snow every year. Thanks to Japan's geographical location, all of this lovely snow is kept delightfully cold and fluffy throughout the season. Not only will the skiing possibly be the best you have ever experienced, but unique cultural experiences, sophisticated resorts and friendly people combine, to make this a truly fabulous destination.
Whilst there are over 500 ski resorts in Japan, Oxford Ski has narrowed this choice down to three of the very best resorts. Each features great skiing, luxurious accommodation and a variety of après ski activities.
Located on the northern most island of Hokkaido (an hour's flight from Tokyo), Niseko is Japan's largest ski resort. It is THE place to come for powder snow. Renowned for the consistency of its snow throughout the season, skiers are spoilt for choice.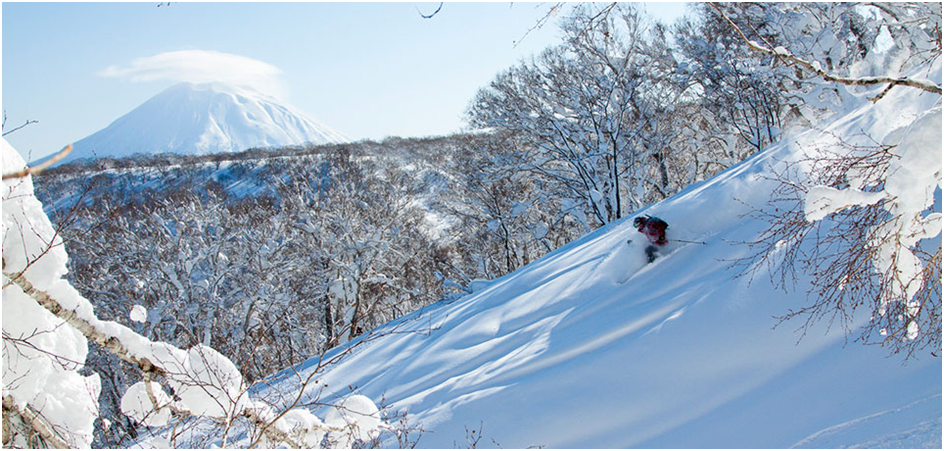 A selection of meticulously groomed pistes, suitable for all abilities, powder bowls, tree runs, half-pipes and mogul fields await. All spread across four smaller interconnecting areas – Hanazono, Grand Hirafu, Niseko Village and Annupuri.
And if you are left wanting more by the time the sun goes down. Then fear not – Niseko boasts some of the best night skiing in Japan. Off the slopes, après ski is an inviting mix of high-end restaurants, cosy bars and lively clubs. Whether you want to dance the night away or spend a leisurely evening in a Michelin starred restaurant, the choice is yours.
Set at the heart of the spectacular Japanese Alps, Hakuba valley is just a short bullet train ride from Tokyo. Another of Japan's most renowned alpine resorts.
Eleven separate ski resorts are all meshed together with one lift pass, allowing you to travel seamlessly from one to the other and providing you with a variety of terrain. Not to mention it is all set within breath-taking scenery with peaks towering over you at 3,000m high. With so many ski resorts to choose from, you will often find the slopes are delightfully empty during the week and you will never be short of new areas to explore.
The main hub of the Hakuba valley is Happo. This ski village boasts luxurious accommodation and a great vibe. You will find a wide range of restaurants including Western style dining and plenty of options for superb Japanese cuisine. English is frequently spoken, which allows you to freely converse if your Japanese is not up to much!
A visit to the Jigokudani monkey park is a also a must – home to more than 200 snow monkeys, these amazing animals use the hot springs in the area to keep warm during the cold winter months.
If you want superb skiing set in a stunningly beautiful location, brimming with traditional Japanese architecture, then the hot spring town of Nozawa Onsen in northern Nagano Prefecture is the answer.
The ski area extends from the top of Mt. Kenashi (at 1,650m) and radiates out across 300 hectares of slopes, covered with high quality powdery snow into early May. With an impressive vertical drop of 1,085m, there are a lot of downhill runs, suitable for beginners and experts alike.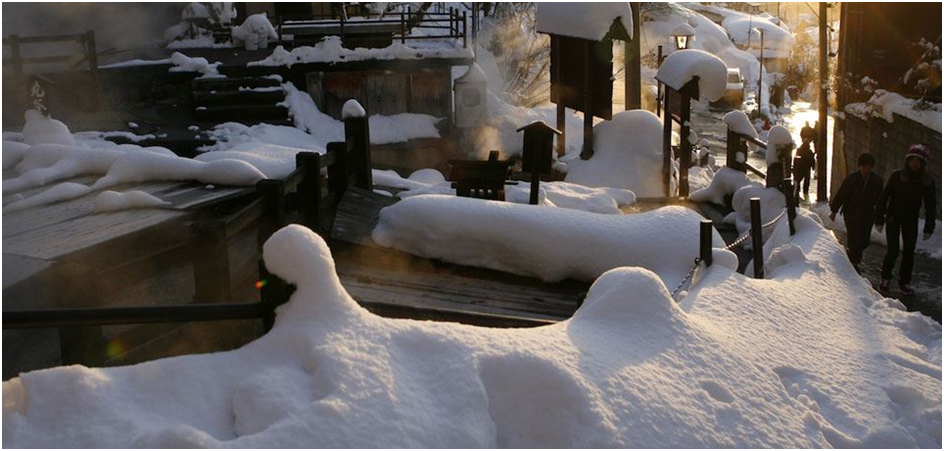 Enjoy off-piste skiing with plenty of powder between the trees and numerous mogul runs and steeps.
Away from the slopes and back in Nozawa Onsen, you will find yourself in the midst of charming streets lined with wood-panelled buildings from the Edo period (1603-1868). A must-do is a visit to one of 13 public baths (sotoyu). Fed by natural hot springs, a soak in the soothing mineral waters is the perfect way to ease away aches from a day on the slopes. If you are looking for the cultural experience, then Nozawa Onsen is undoubtedly one of the best Japanese ski resorts to visit.
About Japan Skiing.
Ski lift passes are among the cheapest of any destination, with prices far cheaper than Europe or the US, meaning plenty of extra money to spend enjoying the local area.
After a long day skiing, there's no better way to unwind and soak those sore muscles than relaxing in a traditional Japanese Onsen (hot spring). Resorts often have both indoor and outdoor Onsens to help you unwind and prepare for the next morning on the slopes.
Japanese ski resorts and towns are known for serving fresh sushi, ramen and most importantly, fine malt whiskey.
About The Oxford Ski Company.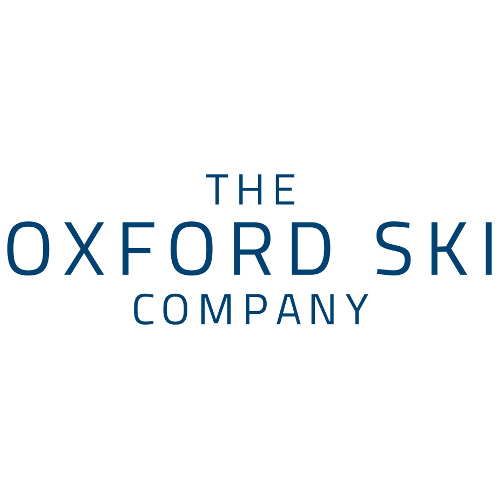 The Oxford Ski Company has provided travel expertise since 1998, so they know how to deliver fabulous ski holidays. Specialising in luxury ski chalets and hotels, Oxford Ski have put Japan on their list of skiing destinations for 2017.
The Oxford Ski Company tailors its holiday packages to suit you. Offering a complimentary concierge service for organising accommodation, food, childcare, ski instruction and entertainment. The team plans everything from honeymoons to family Christmases. To find out more about Japan and to book your next ski holiday, please visit The Oxford Ski Company.
pop trivia: From the 1984 album 'Forever Young' by German group 'Alphaville' is the single 'Big in Japan' featuring this lyric.

If you don't want to miss any of my blog posts on the latest ski offers, news and information, make sure you follow me on Twitter or Facebook. I'd also welcome any ideas for future posts. Please send me any ski news and updates that you know about. Thank you.