[siteorigin_widget class="Advanced_Ads_Widget"][/siteorigin_widget]
Cross Country Skiing
The village of Les Houches prepares cross country skiing tracks by the lake of Chavants (2.8km).
The lift companies prepares a 4.2 kilometer track up at the Prarion Plateau at 1800 meters.
[siteorigin_widget class="Advanced_Ads_Widget"][/siteorigin_widget]
Ski Resort Guide: Les Houches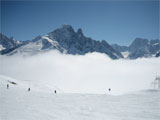 Les Houches, situated 6km down the valley from Chamonix, offers tree-lined pistes and delightful cafes and mountains restaurants and access to the vast Mont Blanc Ski Area, which can be reached using the ski bus.
Most of the skiing in Les Houches is through pine and larch forests, which offers more protection when the winds are high and greater charm than some of the more exposed areas further up the valley.
---
Height: 950 to 1900m.
---
Marked Pistes: 55 km with 110 snow cannons.
4

, 5

, 12

, 1

.
---
No of Ski Lifts: 7 ski lifts, 6 chair lifts, 2 cable cars.
Hotels In Les Houches
Hotels non classified
Barme
320 Route des Chavants, 74400 Les-Houches, Tel: +33(0)450544266
Fontaine
La Fontaine, 74400 Les-Houches, Tel: +33(0)450472196
Campanules
450 Route de Coupeau, 74400 Les-Houches, Tel: +33(0)450544071
One Star Hotels
Melezes
333 Rue de l'Essert, 74400 Les-Houches, Tel: +33(0)450544009
Two Star Hotels
Montany
490 Le Pont, 74400 Les-Houches, Tel: +33(0)450545737
Prarion Alt
1860m, 6090, Route du Prarion, 74310 Les-Houches, Tel: +33(0)450544007
Saint Antoine
7 Route Napoléon, 74400 Les-Houches, Tel: +33(0)450544010
Three Star Hotels
Beau Site
Chef Lieu, 74400 Les-Houches, Tel: +33(0)450555116
Chris Tal
242 Avenue des Alpages, La Griaz, 74400 Les-Houches, Tel: +33(0)450545055
Du Bois
475 Avenue des Alpages, La Griaz, 74400 Les-Houches, Tel: +33(0)450545035