[siteorigin_widget class="Advanced_Ads_Widget"][/siteorigin_widget]
Val d'Isere Ski Resort Piste Map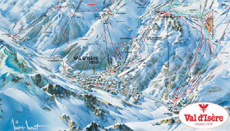 [siteorigin_widget class="Advanced_Ads_Widget"][/siteorigin_widget]
Getting To Val d'Isere By Plane
By Plane
---
At 130kms from Val d'Isère (about 2hrs transfer), Chambéry Airport is the closest airport to the resort. However, Chambéry is susceptible to bad weather, and it can often be closed with flights frequently being diverted to Lyon or Grenoble airport. Geneva, Lyon and Grenoble are the other airports close by at a distance of 180kms, 220km and 210kms respectively. Transfer times from these airports can take anything between 3.5 – 4.5 hours.
Getting To Val d'Isere By Train
Train
---
The nearest train station is Bourg St. Maurice which is about 30-45 minutes away by taxi or bus. Eurostar runs both a direct daytime and an overnight train from London or Ashford to Bourg St. Maurice station (fares from £179). There are two Eurostar direct services weekly. The night service leaves London/Ashford on Friday evening and arrives in the French Alps early on Saturday morning (returns Saturday night/Sunday morning) while the day service leaves early Saturday morning from London/Ashford and arrives late afternoon (same for return). The tickets tend to book up very fast. An alternative is to take a Eurostar to Paris or Lyon and take a French train (perhaps overnight from Paris) to Moûtiers Salins.
Getting To Val d'Isere By Road
Car
---
From Calais the journey takes from 7 to 10 hours depending on your speed. There is motorway or dual carriageway from Calais all the way to Bourg St Maurice (45 minutes past Moutiers) and then a 20-30 minute climb on single carriage road to the resort