[siteorigin_widget class="Advanced_Ads_Widget"][/siteorigin_widget]
The Glacier Express Andermatt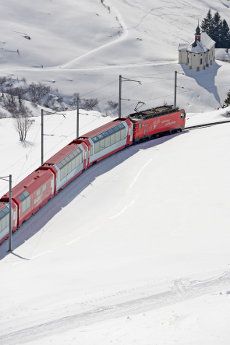 The Glacier Express – Andermatt
[siteorigin_widget class="Advanced_Ads_Widget"][/siteorigin_widget]
Getting To St Moritz By Plane
By Plane
---
The Nearest Airports to St Moritz
St Mortiz now has it's own airport Engadin Airport, which is also the terminus for the Glacier Express and the Bernina Express.
Műnich: 300km (187 miles).
Zűrich: 210km (131 miles).
Milan: 200km (125 miles);
Samedan also known as Engadin Airport, St Moritz : 5km.
Getting To St Moritz by Train
By Train
---
There are Rail and bus services from Zűrich.
From Zurich main station  – 3 hours. Web: www.rhb.ch
The Glacier Express from Zermatt – approx 8hrs. This classic rail journey is one of the most scenic in Europe. Web: www.glacierexpress.ch.
Bernina Express from Tirano. 55 Tunnels, 196 bridges and a high point of 2,253m – modern panoramic cars. Web: www.rhb.ch/en/panoramic-trains/bernina-express
Railway station in resort.
---
By Car
By Car
---
There are good mountain roads from the northern parts of Switzerland, the Ticino, Italy, and Austria.
From Zurich or Milan takes approximately 3 hours,
From Munich – 4 hours
Should you want to avoid the drive over the mountain pass, you can take the car train in Klosters/Selfranga. Web: www.vereina.ch
www.strassen.gr.ch provides continual updates on the state of the roads in the Canton of Grisons.