[siteorigin_widget class="Advanced_Ads_Widget"][/siteorigin_widget]
The Glacier Express Andermatt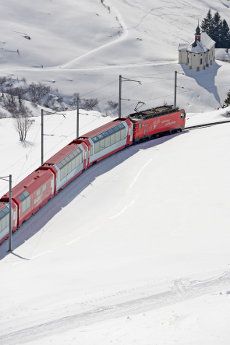 The Glacier Express – Andermatt
[siteorigin_widget class="Advanced_Ads_Widget"][/siteorigin_widget]
Apres Ski St Moritz
Resaurants For Apres Ski St Moritz
There is no shortage of restaurants in St Moritz although your choice will be limited if you're on a budget.
Roo Bar, Hotel Hauser
This lively restaurant located in the Hotel Hauser serves good food, including some Australian specialities. Particularly popular is the selection of meats that you cook yourself on a hot stone.
Address: Via Traunter Plazzas 7, St Moritz Dorf. Tel: 00 41 81 837 50 50
Chesa Veglia
Part of Badrutt's Palace hotel, this rustic farmhouse is home to three restaurants: a pizzeria, a French restaurant and the Patrizier Stuben, which serves local dishes.
Address: Via Serlas 27, St Moritz Dorf. Tel: 00 41 81 837 10 00
Jöhri's Talvo and Chesa Pirani
For gourmet dining, St Moritz has two Michelin-starred restaurants: Jöhri's Talvo in Champfèr and Chesa Pirani in La Punt.
Jöhri's Talvo
Champfèr
00 41 81 833 44 55
Chesa Pirani
La Punt
00 41 81 854 25 15
CHF146-235 (£74-119)
El Paradiso
There are few better ways to spend an afternoon than snuggling up on a double sun lounger on the south-facing terrace and lapping up the views after lunch. El Paradiso has recently been renovated in a slick, contemporary style and has a varied menu that includes Swiss, French and Italian dishes.
Corviglia
00 41 81 833 40 02
www.el-paradiso.ch
Mathis Food Affairs
Located at the top of Piz Nair with fantastic views, this is an assortment of eating places including a brasserie, the high-end Marmite restaurant and a delicatessen. Not a budget lunch option, but very good.
Corviglia
00 41 81 833 63 55
www.mathisfood.ch
Best après-ski bars and clubs
St Moritz Apres Ski is too civilized for raucous après-ski. In the late afternoon, you're more likely to find locals having tea and pastries at Hanselmann's than knocking back the beers. Rare sightings of beer-drinking, ski-suited types can be had at the Schirm Bar and Alpina Hütte, by the Chantarella mid-station on Corviglia, and at Hotel Hauser's outdoor bar.
From about 4pm onwards, Bobby's Pub in the Caspar Badrutt Shopping Gallery attracts a young crowd including Britons in search of Guinness and football.
After dinner, Crystal Hotel's Piano Bar is good for civilised cocktails while locals live it up at Stübli (Hotel Schweizerhof), Cava bar (Hotel Steffani) and later at King's Club (Badrutt's Palace hotel) and Vivai (Hotel Steffani).