[siteorigin_widget class="Advanced_Ads_Widget"][/siteorigin_widget]
Non Skiing Activities
Les Arcs offers very little in the of off-slopes activities. There is a bowling alley in Arc 1800, skating in both Arc 1800 & Arc 2000 and the cinemas have English films most weeks.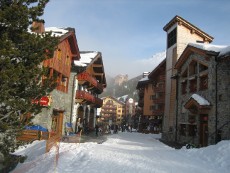 Les Arcs 1950
[siteorigin_widget class="Advanced_Ads_Widget"][/siteorigin_widget]
Best Bars For Apres Ski Les Arcs
Nightlife in Les Arcs can be a frustrating affair due to the lack of a defined centre but there are various options.
Arc 1800 seems to be the après-ski epicentre with La Gabotte, Ambiente and Benji's Bar usually packed to the rafters. As for after-hours venues, Le Chalet de Luigi (also a restaurant) has a great bar and club and Les Belles Pintes is one of the resort's best Irish bars.
Best Eating Out In Les Arcs
Le Chalet de l'Arcelle
Local Savoyard dishes, great views and easy access make this place perennially popular.
Arc 1600; look out for the tiny chalet near the ski school.
Tel: 00 33 479 04 21 35
Bergerie de Raphal
You might be miles from the sea, but this Vallandry eaterie specialises in crayfish you get to choose your own from the tank.
Michaille, Vallandry Tel: 00 33 479 07 94 95
The Mountain Café
The Mountain Café in Arc 1800 is a Tex-Mex restaurant. The fajitas and over-sized burgers are excellent, although it might take a while to get a table.
Galerie Commercial, Arc 1800 Tel: 00 33 479 07 00 89
Casa Mia
Casa Mia is considered the best of the Italian restaurants in Les Arcs.
Terrasse du Miravidi, Arc 1800 Tel: 00 33 470 07 05 75
Bar Mont Blanc
This slope-side bar and restaurant in Vallandry is highly rated by locals. It is linked to 1800 by the Grizzly lift and is the perfect place to stop for a mid-afternoon beer and snack on the sun terrace.
Vallandry Tel: 00 33 479 07 92 34