[siteorigin_widget class="Advanced_Ads_Widget"][/siteorigin_widget]
Cortina d'Ampezzo Ski Resort
Cortina Ski Resort Piste Maps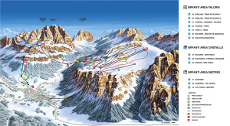 Cortina Piste Map:
Faloria, Cristallo, Mietres Ski Areas
Cortina Ski Resort Map
[siteorigin_widget class="Advanced_Ads_Widget"][/siteorigin_widget]
Apres Ski Cortina
In town, the
Pasticceria Lovat
on Corso Italia purveys serious Austrian cakes, hot chocolate and coffee variations.
Eating Out On The Mountain
Rifugio Averau at the top of the Cinque Torri ski area at 2,400m (7,874ft) for glorious views and excellent Italian home-cooking. If the weather is good then sit outside and enjoy the spectacular views to Civetta and Marmolada while drinking Prosecco and tucking into their 'three pastas' or venison ravioli.
Many mountain restaurants can be reached by road.
Eating Out
There is a huge choice of restaurants, both in town and little way out, mostly serving Italian food.
La Bolte 0436 866 283 – for a Mexican.
El Toula 0036 0436 3339 – for an expensive treat just on the edge of town in an old barn.
Tivoli 0036 0436 866 400 – for those of you with Michelin star taste.
Rio Gere for game dishes.
Baita Fraina for pasta and meats, they also have rooms – www.baitafraina.it.
Nightlife
Cortina in high season is a fun place. There are many fine wine bars. Enoteca is a cosy and usually packed venue that stocks over 700 wines.
The Clipper – is a lively bar with a good selection of cheeses and meals
to dance the night away head to the Metro Club or Limbo
Disco's liven up after 11pm.
If you like Cortina – Try …