[siteorigin_widget class="Advanced_Ads_Widget"][/siteorigin_widget]
Skiing Powder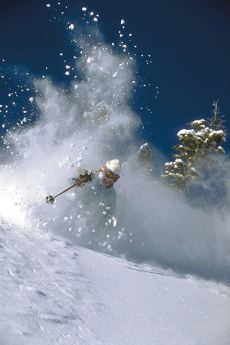 [siteorigin_widget class="Advanced_Ads_Widget"][/siteorigin_widget]
Alta Ski Resort Review
Alta Ski Resort
was once the essence of high adventure, living out the Hollywood version of an out-of-control, lawless society in which life was cheap and riotous behaviour was on tap. In-between shooting each other the miners did something constructive – they learned to ski.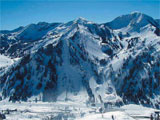 Deep powder snow, inexpensive lift tickets, proximity to Salt Lake City and beautiful scenery make Alta a popular spot, with the added benefit of all-level terrain catering to beginners and advanced skiers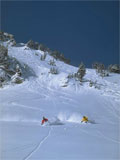 Located at the top of Little Cottonwood Canyon, 2km beyond Snowbird, in northern Utah, Alta Ski Resort offers 2,200 acres of terrain and 116 runs serviced by a range of lifts including detachable quad chairs, surface tows and a moving conveyor. The ski resort starts at a base elevation of 2600m, rising to 3216m for a vertical gain of 617m.
The skiing centres around two lifts, Albion and Wildcat which are linked by a rope tow along the flat valley floor. Most of the, somewhat limited, accommodation is convenient for the lifts.
Apres Ski
If you're after après ski, Alta Ski Resort may not be your best bet. It's family-friendly with excellent childcare facilities, so classic après ski means a hearty meal and an early night.
But while bars don't technically exist in Utah, you'll find places displaying signs like "Private club for the benefit of its members", so just join up and think of the nominal (few dollars) fee as a cover charge. Spots for a bout of nocturnal drinking include the Peruvian Lodge bar, Sitzmark Bar at the Alta Lodge, the Goldminer's Daughter Alpine Lounge and the Eagle's Nest Lounge at Rustler Lodge.
Dining is usually included in lodging costs, but lodge restaurants are usually open to all
Things To Do Other Than Skiing
There are very few options;
Snowshoeing
Cliff Lodge Spa
Sightseeing in Salt Lake City