Top 3 Ski Resorts in Canada.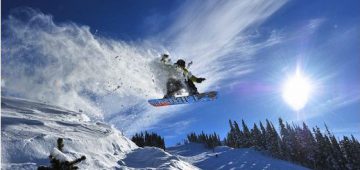 In this guest blog, Liz from Canadian Affair encourages us to explore her top 3 ski destinations for a Canadian ski holiday. In the past few years, Liz has taken many city breaks to Toronto. And to Vancouver where she went on a Whale Watching trip.
Liz has also been on ski trips with her family. To the Canadian Rockies and the world-famous Whistler Blackcomb in British Columbia.
Canada's Top 3 Ski Holidays.
Canada has some of the world's most reliable snowfall, so there's always great skiing to be had in the mountains. With resorts perfect for both skiers and snowboarders, it's clear why Canada has some of the best and it is a favourite for so many.
Ski Resorts in Canada offer the perfect combination of breath-taking scenery, amazing terrain, world-class après ski and fantastic powder snow. With regular flights to Vancouver and Calgary throughout the winter season. Here are my top recommended Canadian destinations for a great ski holiday…
Whistler Blackcomb Ski Resort, Canada.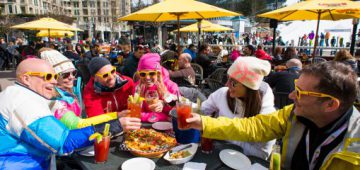 Whistler is consistently ranked North America's number one mountain resort, and it's easy to see why.
There are two beautiful mountains with world-class skiing and snowboarding to enjoy. Over 200 ski trails, 3 glaciers and alpine bowls await. As well as fantastic après, dining and nightlife.
To top it all, most of the accommodation is ski in ski out or just minutes from the slopes. In the pedestrian resort town there is a wealth of dining options to choose from. As well an excellent range of bars and nightclubs.
The two mountains, Whistler and Blackcomb, are connected by the amazing Peak2Peak Gondola. This means you can ski both mountains easily in one day. At the same time you get to enjoy breathtaking panoramic views of the surrounding Coastal Mountains.
With the quick access to the slopes, you can easily enjoy breakfast at the top of the mountain. You then get to be one of the first to make tracks in the morning snow.
Top Tip: Use the free mountain hosts to get orientated on the first day. They meet each day at the top of the Whistler Gondola or the Solar Coaster Express on Blackcomb.
Banff Ski Resort, Canada.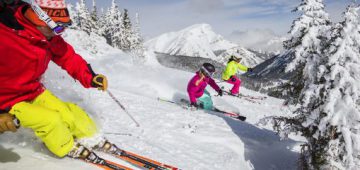 Banff is one of Canada's true highlights where you can enjoy skiing or snowboarding the 'Big 3'. Together Mount Norquay, Sunshine Village and Lake Louise, have over 8,000 acres of beautiful terrain and a total of 274 ski runs.
Of the Big Three, Banff is probably the most popular ski mountain town. It is a resort perfect for couples, families, and groups of friends. This is due to the buzzing town centre, and fabulous après ski, shopping, bars and restaurants.
Whatever level you ski or board at, Banff is the perfect ski holiday choice. From here you can enjoy all three resorts on just one lift ticket. Opening up more terrain that you can even dream of.
Top Tip: Ride the Banff Gondola. The eight-minute ride to the top of 7,500-foot Sulphur Mountain provides panoramic views of Banff National Park.
Lake Louise Ski Resort, Canada.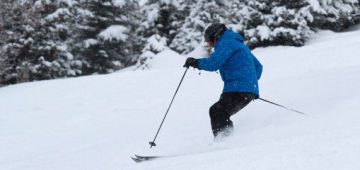 Lake Louise Ski Resort is one of the most stunning ski resorts in the world. With spectacular mountain ranges and breath-taking views.
As one of North America's largest ski resorts, with more than four mountain faces. It's no wonder so many visitors are keen to ski and snowboard here.
For those less inclined to spend all day on the slopes. The tranquil atmosphere of the resort is perfect for enjoying a coffee or après drink, whilst admiring the surrounding scenery.
For those ready to take on some incredible terrain, there is more here than you can ski in a week. No matter what level you ski or board at, you can enjoy endless long cruising runs or explore chutes, glades, remote bowls and gullies galore.
Top Tip: Head to Laggan's Mountain Bakery for breakfast – open from 6am. It's got a friendly atmosphere, and offers fresh pastries, breads, salads, soups, sandwiches and house coffee.
Canadian Comfort.
Canadian ski resorts are often thought of as some of the most comfortable there are. Each has a wide range of bars and restaurants that cater for every need, whether you're traveling with friends or children. Many of the après-ski bars serve food and have outdoor terraces with live music. Eating out is both easy and delicious with a choice of international cuisine at the many different restaurants.
One of the best parts of skiing in Canada is the beauty of no lift queues. You experience a breathless feeling as you feel like the only person on the mountain. With wide open slopes to enjoy at your own pace.
After a long day on the slopes and an evening of winding down, there's plenty of warm and welcoming hotels for you to rest up. Maybe with a dip in the bubbling hot tub – before you start it all again the next day.

About Canadian Affair.
This blog post was written for Best Ski Resorts by Liz at Canadian Affair. When it comes to planning ski holidays in Canada, Canadian Affair are the experts. With almost 20 years of experience in taking holiday makers on their dream trips. They off direct non-stop flights to Canada from London, Birmingham, Manchester and Glasgow.
Whether you're new to the slopes or a skiing supremo, Canada has the perfect ski holiday for you… Talk to Canadian Affair, the UK's leading Canada Holiday Specialist. Get personal expert advice for the perfect adventure in Canada.

If you don't want to miss any of my blog posts on the latest ski offers, news and information, make sure you sign up for Ski Alerts. We will not share your data with others and will only send you about two emails a month.