[siteorigin_widget class="Advanced_Ads_Widget"][/siteorigin_widget]
[siteorigin_widget class="Advanced_Ads_Widget"][/siteorigin_widget]
Accommodation in La Plagne
Carlina Hotel, Belle Plagne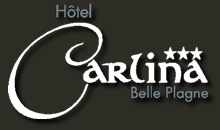 The three star Carlina enjoys a superb slope-side location, and has been expanded this year with a well-designed new spa and more rooms.
Belle Plagne, 73210 La Plagne
Tel: 0033 479 09 78 46. Web: www.carlina-belleplagne.com
Les Granges du Soleil, Plagne Soleil
Les Granges du Soleil in Plagne Soleil is very close to the slopes, accommodation is self-catering, and the 16 suites and 61 functional apartments have well-equipped kitchens as well as satellite TV and internet access. Residents have use of a spa with pool and ski hire shop.
Les Granges du Soleil, Plagne Soleil, 73210 La Plagne.
Tel: 0033 450 33 10 96. Web: www.cgh-residences.com/uk
The Auberge de Montagne Chez Pat du Sauget
The Rochet family inn has just six traditionally furnished, two-star standard rooms, and its position next to the Vanoise Express in the Montchavin-Les Coches sector means it is accessible on foot, by ski or car. This is an authentic Tarantaise mountain inn, run by locals, and as such is one of the most atmospheric locations in the resort.
Chez Pat du Sauget, Montchavin les Coches 73210 La Plagne.
Tel: 0033 479 07 83 51. Web: www.le-sauget.com/chezpat.htm
Summit View, Plagne Centre
The ski operator Snowline runs this development of seven chalet "suites" each with its own host and each taking up an entire floor of an apartment building. Inside, it is child friendly with chic, traditional styling.
Tel: 0044 844 557 31 18. Web: www.snowline.co.uk
Auberge de Cassiel
Another traditional mountain inn with only four rooms. Expect creaking wooden interiors and quirky touches (such as old pans and cast iron bowls for washbasins) mixed with modern technology such as wifi and solar heating panels. Its location in La Cote d'Aime means a car is pretty much a necessity.
Auberge de Cassiel, Le Villard de la Cote d'Aime, 73210 Aime
Tel: 0033 479 09 24 83. Web: www.aubergedecassiel.fr.