Basic Ski Touring Course; based at the Heidelburger Hutte above Ischgl.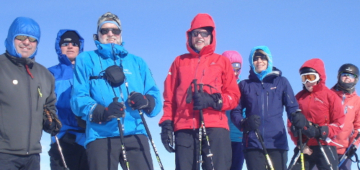 There were eight of us who had independently made our way to a pull-in at the bottom of the piste in the ski resort of Ischgl. Karen, Pauline, Andy, Mike, John, Fiona, Andrew and I, Janet, were now stood around wondering if ski touring was really for us, whether we were in the right place, and what we'd let ourselves in for.
Before heading up the mountain, Hannis, who would be our Austrian Alpine Club guide for the week, took us off for coffee. He knocked back several, which must have kept him buzzing for the whole week!
Why did you go on the Basic Ski Touring course?
We love skiing, we love the mountains. The idea of being able to head off into the backcountry and ski on deep virgin powder with no one else around was very attractive.
We often ski off-piste. What I really mean is, we often ski within 100m of a piste. On a few occasions we have hired a guide to take us further afield and loved it. So, we thought, learning how to head off into the backcountry by ourselves, safely would be a good thing.
Where you fit enough?
Yes. The air is thin and sliding uphill with skis/skins is tough going, but the pace is fairly slow. This doesn't mean you can get away without a good level of fitness though.
If you are a weekend mountain hiker and/or a few times a week runner, cyclist or gym bunny you shouldn't have any problems. If you are a regular couch potato, goggle-boxer, pub dweller or tiddly-wink player you might need to up your game a little!
What do you think of ski touring now?
Ski touring is more about the going up and enjoying being in the mountains than it is about the coming down and the skiing.
For every hour of climb it takes about 20mins to come down. You definitely get off the beaten track and witness some truly spectacular mountain scenery in quickly changeable and awesome weather conditions.
The equipment is a bit of a 'faff'…
Take skins off as wind whips around and pack them away.
Get your helmet on.
Adjust the length of your ski poles.
Change the settings of your boots.
Put on an extra layer of clothing.
All whilst trying to get something to eat, when you've just spent over four hours climbing at altitude, is a lot of effort.
Snow is dangerous. Only many years of experience can truly help you 'read' the snow conditions and help you know where to go or, perhaps more importantly, not go. Whilst the theory lessons within the course gave us a good grounding. We still don't feel equipped to head into the backcountry without a guide.
Would you go again?
I wouldn't rush out to spend £1k+ on new kit.
To get off the edge of the piste map and into the backcountry and enjoy the mountains, I think I prefer snow-shoeing.
To ski in fresh, deep, virgin powder, I think I prefer to get up early and use the every growing infrastructure of lifts and marked ski-routen trails.
Best Bits of Course.
Janet: The sky clearing on the final day to give us near perfect conditions for skiing back to the hut. It had snowed overnight and our walk up was in low visibility; we weren't hopeful of a good finish to the week.
Karen: I loved the remote setting and wonderful sections of deep fresh powder.
Mike: All of us getting up the Breite Krone on the Wednesday. We had good weather and snow conditions and already felt like a group moving together.
Andy: In our first week of basic training we all skied to the top of two 3,000m peaks.
Pauline: The amazing scenery.
Andrew: Getting away from it all whilst having some home comforts (beer) in the Hutte.
John: Skiing off the Curuna Lada in the sunshine, down un-skied snow fields.
Worst Bits of Course.
Half the group couldn't come up with a worst bit!
Janet: The smell of the gear room. Putting warm, dry boots on every morning was a delight and very welcome. The smell of everyone's (no doubt including mine!) sweaty boots drying out each evening was toxic and not very welcome.
Karen: My main difficulties were wrestling with, and understanding, my bindings. I would also have preferred to be in the mountains for longer each day.
Pauline: The multiple legs of travel to get there from Ireland.
Andrew: Getting to grips with skiing on new equipment; double whammy of it being rented and unfamiliar.
Top Tips for Ski Touring.
If hiring equipment go a day early and have a go on the piste. Ski touring skis are very light and twitchy.
Get familiar with the equipment; getting skins off. Adjusting bindings and boot settings for the first time when you are stood on a freezing cold, windy mountain top is not much fun.
Take snacks you can carry in your pocket and eat on the go. Stopping for lunch didn't seem to be on the agenda!
Ensure you know how to use the panorama setting on your camera. The 360o views are awesome.
Consider ear plugs/blindfold. In shared dormitory accommodation there is always at least one snorer and middle-of-the-night comings and goings to the loo!
Minimise your luggage. In Hutte dormitories there are no wardrobes and you'll be lucky if you get a hook to yourself.
The Ski Touring Course Facts.
For those who like such things:
The five day, six night course was based at the Heidelburger Hutte which is at 2,264m. It is technically in Switzerland, owned by the German Alpine Club, but run by the Austrians.
Each day involved a 4+ hour ski tour climb and a ski return back down to the Hutte. Peaks bagged included Ils Calcuogns (2,792m), Piz Larain (3,009m) and Breite Krone/Curuna Lada (3,079m). All involved abandoning skis and packs just below the summit and making the final assent in ski boots.
The course included several class room sessions to learn about having the correct kit, route planning, weather and avalanche safety.
The group undertook a number of practise search and rescue sessions using transceivers, probes and shovels.
Summary of Ski Touring Experience.
We were very lucky with the weather and conditions. Whilst we often set off in cloud, we were always treated to blue sky sections and got fresh snow towards the end of the week.
The instruction and awareness of avalanche dangers gave us all some degree of confidence to go ski touring in the future.
We all had a superb week and would like to thank the AAC, both in Austria and the UK, for providing us with this opportunity; here's to next season! Dates and prices for future ski touring courses will be on the AAC UK website.

If you don't want to miss any of my blog posts on the latest ski offers, news and information, make sure you sign up for Ski Alerts. We will not share your data with others and will only send you about two emails a month.