Telluride Ski Resort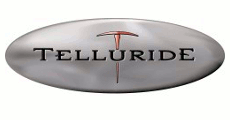 Skiing Telluride
Getting To Telluride
Accommodation in Telluride
Après Ski Telluride
Telluride Ski Trail Maps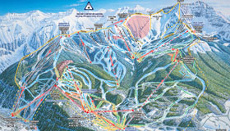 Telluride Trail Map
Skiing Telluride
Telluride Ski Resortis an isolated resort, located in the Uncompahgre National Forest, under the massive Palmyra Peak at 13,320 feet (4,060 m).
Telluride is not a resort for keen piste bashers. The pistes themselves are varied, are limited in extent, most of the pistes are below the tree line.
Intermediate Skiing Telluride
Telluride has plenty of intermediate skiing, 38 percent of the terrain, and lift 5 offers a variety of rolling terrain,wide chutes, moderate pitches and open tree runs. See Forever is the longest piste, 5km, and most challenging intermediate piste; from the top of Gold Hill Mountain all the way down to the base of lift 4, allowing intermediates to view all the wonderful scenery of the mountain by staying on the same piste from top to bottom.
Lift 4 and 5 pistes are spectacular, primarily consisting of double and single blues, but provide a variety of terrain. Misty Maiden on Lift 4 is known for its fabulous corduroy and speed, and Palmyra on Lift 5 is good for moguls. Also, Telluride's new Prospect Bowl has plenty of tailor-made trails—check out Magnolia and Sandia.
Expert Skiing Telluride
Experts have some truly challenging terrain such as the Gold Hill Chutes.