[siteorigin_widget class="Advanced_Ads_Widget"][/siteorigin_widget]
Aspen Highlands Piste Map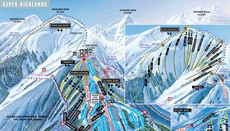 Aspen Highlands Piste Map
[siteorigin_widget class="Advanced_Ads_Widget"][/siteorigin_widget]
Skiing Aspen Highlands – Bowl at Aspen Highlands
Skiing Aspen Highlands
Best known for: Steep, big-mountain skiing in Highland Bowl, Olympic Bowl and Steeplechase; Deception, Aces and 8's on the Olympic Side
Best-kept secret: The newly extended Mushroom trail will test even the fittest legs of mogul enthusiasts. For incredible skiing/riding on a powder day, head to Child's Play in the Highland Bowl. Or, check out Log Jam Gully, Bowling Alley and Fran's Love in Deep Temerity.
What's New: In 2008-2009 Aspen Highlands added 18 additional acres of skiing and riding in the Deep Temerity area of the mountain between Hyde Park and Mushroom Chutes called Canopy Cruiser.
Highlands Bowl is a large, natural powder bowl with pitches that vary from 38 degrees to a toe-clenching 48 degrees, on the Loer Y Zones. New sections of the bowl have been painstakingly secured and opened up to freeriders over recent years, resulting in some of the steepest controlled off-piste in the US.
Aspen Highlands lower mountain steeps While everyone is rushing to the top of Aspen's Highland Bowl have a look at the lower mountain steeps on Aspen Highlands. The P Chutes, Moment Chutes, Audacious, Epicure and Lower Stein offer gut check steeps without the big hike.