[siteorigin_widget class="Advanced_Ads_Widget"][/siteorigin_widget]
[siteorigin_widget class="Advanced_Ads_Widget"][/siteorigin_widget]
Courchevel Moriond, 1650 Ski Resort Review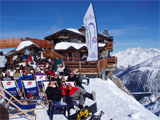 Courchevel 1650 now known as Courchevel Moriond is very much a resort in its own right rather than a satellite development and offers a separate ski area which tends to much quieter than the higher slopes. Courchevel Moriond has a busy centre with shops, some excellent restaurants, notably Le Petit Savoyard, L'Eterlou and Montagne and some great bars – all friendlier and much more affordable than places in Courchevel 1850.
The village has spruced itself up recently, adding stone and wood cladding to the low-rise buildings in its centre, and creating walkways for pedestrians to shield them from the traffic winding up to Courchevel 1850. A new covered escalator will links the chalets in the lower tier of the village to the main street and lift station, and a new lift from the village to the Signal lift on the slopes.
There are 3 lifts leading up from Courchevel Moriond, 1650, providing convenient access to the challenging terrain, including the Ugly Sisters Couloirs, the off-piste, and of course, the other resorts of The Three Valleys. Courchevel 1650, Moriond is home to one of the resorts' ESF ski schools, and has its' own free lifts and beginner slopes, and also offers night-skiing on the floodlit slope above the village every day until 7pm – free with a valid lift pass.
Apres Ski Courchevel Moriond, 1650
Le Bubble (1650)
Great place for a pre-ski coffee, lunch or ski-boot dancing until 1am, to find them, turn right at the bottom of the escalator.
Rue de Marquis, 73120, Courchevel 1650
Tel: + 33 (0)4 79 01 14 21.Web: www.lebubble.com.
Portet
Ski in ski out, bar and French restaurant. Great for cocktails by the fire
Tel: +33 (0) 479 080 147. Web: www.leportetta.com.
Le Petit Savoyard
Excellent, reasonably price food. Family owned and run, 2 minute walk form the lift station. Tel:+ 33 (0)4 79 08 27 44.
Le Bel Air Mountain Restaurant
One of the most popular mountain restaurants in the Three Valleys. Excellent food and service. Reservations are essential as this restaurant is frequently full and there are often queues. Ski in ski out, or can be reached on foot.
Arrivée de la télécabine de l'Ariondaz – 73120
Tel: +33 (0) 479 08 00 93
Crêperie Titine Et Lilou
Open all day for a meals or snacks, eat-in or take-away.
Résidence 1650 – 73120 Courchevel 1650
Tel: +33 (0) 479 08 95 53
L'Alambic
Place du Marquis – 73120 Courchevel 1650
Tel: +33 (0) 479 01 18 93
L'Eterlou
Traditonal Savoy restaurant.
Rue du Marquis – 73120 Courchevel 1650
Tel: +33 (0) 479 08 25 45
L'Ours Blanc
Next to the Ariondaz gondola.
Front de neige – 73120 Courchevel 1650
Tel: +33 (0) 479 00 93 93. Web: www.hoteldugolf-courchevel.fr
La Casserole
Next to "le Signal" chairlift.
Piste des Grandes Bosses – 73120 Courchevel 1650
Tel: +33 (0) 479 08 06 35.
La Table De Marie
Pizzas, savoyard specialities, pancakes, pasta.
Rue du Marquis – 73120 Courchevel 1650
Tel: +33 (0) 479 01 18 97
Le Maracas
Tapas bar out in Courchevel 1650!! Wine by the glass and clever little tapas dishes in a friendly atmosphere.
Rue du Marquis – 73120 Courchevel 1650
Tel: +33 (0) 479 01 14 49
Le Panoramique
Traditional French Restaurant, table or buffet service.
Hôtel du Golf Rue du Marquis – 73120 Courchevel 1650
Tel: +33 (0) 479 00 92 92. Web: www.latitudes-hotels.com
Le Seizena
Aviation inspired lounge style interior.
73120 Courchevel 1650
Tel: +33 (0) 479 08 26 36. Web: www.hotelseizena.com