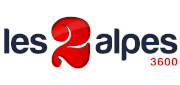 Les Deux Alpes has nearly as many black runs as reds and as much off-piste terrain as prepared pistes. Add to this one of Europe's best terrain parks, a link to the superb off-piste skiing at La Grave. Here a large glacier provides reliable snow throughout the season. Hence, the resort's appeal to expert skiers and snowboarders becomes obvious.
Beginners are also well catered for. There is an excellent network of gentle nursery slopes at the base of the village and on the glacier. However, although there are plenty of long, gentle blues for easy cruising there are relatively few red pistes for intermediate skiers. So, those who don't feel comfortable on black runs or on off-piste terrain can feel short-changed.
Recent investment in new lifts has eased what relatively little congestion did build up at the key base stations. This has also provided a more efficient system of getting around Pied Moutet; a separate mountain opposite the main ski area. Much less crowded although shorter runs for novices and intermediates can be found here. Pied Moutet is considerably lower than the main ski area. It gets the morning sunshine so, it is best skied in good snow and early in the day.
Skiing Blues and Greens in Les Deux Alpes.
Les Deux Alpes is a great resort for beginners with extensive village nursery slopes, many of which have free drag lifts. These is also plenty of green slopes above them in the Cretes area and gentle blues up on the glacier. Confident beginners have the relatively unusual option of skiing from the top of the mountain to the bottom following blue and green pistes, which can give a real sense of achievement.
Glacier du Mont de Lans.
Beginners and tentative intermediates will thrive on the gentle, open glacial slopes high above Les Deux Alpes. This is the ideal spot to build confidence and perfect your technique.
Les Sapins and L'Y.
There are some highly entertaining black runs and marked itineraries suitable for advanced skiers just above the village, Les Sapins and L'Y being favourites. The young trees that have been planted between the pistes for avalanche protection make great slalom poles.
Toura to La Fée.
The two blue pistes that lead from Toura into the La Fée bowl make for ideal warm-up routes for confident beginners and early intermediate skiers. More advanced intermediates should tackle the red Fée piste.
La Fée bowl.
The La Fée bowl offers challenging pistes and marked itineraries as well as varied and accessible off-piste. Expert skiers can ride down the Clos de Chalance into the bowl and then follow the ridge line directly below down through the trees to the village of Cuculet above Lac du Chambon.

For the latest reviews and information from Les Deux Alpes read our blog entries.
For information about Les Deux Alpes visit this page.