Piste Skiing in Portillo.
You don't really go skiing in Portillo if it is a week of skiing good, groomed pistes that you are after. Whilst there are a few green, blue and red runs marked on a piste map this belies what it is to ski in Portillo.
The lift infrastructure is variants on a drag lift theme, which in the main will be long, slow and cold. The reward for this is to be skiing in deep powder fields with the high Andes mountains as your backdrop and your reflection in the Laguna del Inca as your reference point to head back to base.
To enjoy skiing in Portillo you need to be a confident back-country skier who enjoys making your own fresh tracks down the mountain-side.
RESORT OVERVIEW:
Piste Information for Ski Portillo.
Ski Resort Altitude: 2,880m.
Bottom Ski Area: 2,550m.
Highest Ski Lift: 3,310m.
Skiable Terrain: 1,240 acres.
Average Seasonal Snowfall: 8.3m.
Kms of piste: 30, 20km covered by snow cannon on the main slopes.
Marked Pistes: 35, 3 green/blue, 10 red, 22 black/ski routes.
No of Ski Lifts: 14, 5 chair-lifts, 9 drag-lifts/conveyors.
Mountain Restaurants: 2 on the mountain, 3 in the hotel.
Longest Ski Run: 2.5km long.
Ski Season: mid-June to early-October.
Main Advantages: Ski-in, ski-out. Steep and deep powder bowls. Blue skies. Spectacular scenery.
Drawbacks: Not suitable for beginners. Limited accommodation. Avalanche risk.
Ski Pass Options for Ski Portillo.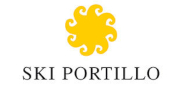 As there is just the one hotel in Portillo and the whole resort is under single ownership, once you book into the hotel everything else is sorted. Your package will include 3, 4 or 7 nights accommodation, your lift pass, four meals a day and use of the hotel's facilities.
Ski Resorts near Ski Portillo.
Portillo is just 5km from the Chile to Argentina border in the high Andes. Skiing in both countries is a possibility. Distances in South America can be vast, made to seem further by mountain roads where speed is not your friend.
Chile has a second ski resort in list of the best, at Valle Nevado. This is a 3 hour trip back down the mountain via Santiago.
Los Penitentes is just over the border from Portillo, about half an hour. It is a very small resort. The nearest ski resort listed among the best in Argentina is Las Lenas, still in Mendoza province, but a six and a half hour road trip away.