Piste Skiing in Shiga Kogen.
The 18 interconnected ski resorts of Shiga Kogen make it Japan's largest. Each resort is quite small, but together they provide plenty of options for skiing in Shiga Kogen. If you're staying in the area you should consider where you stay in order to get the best access to the skiing you want.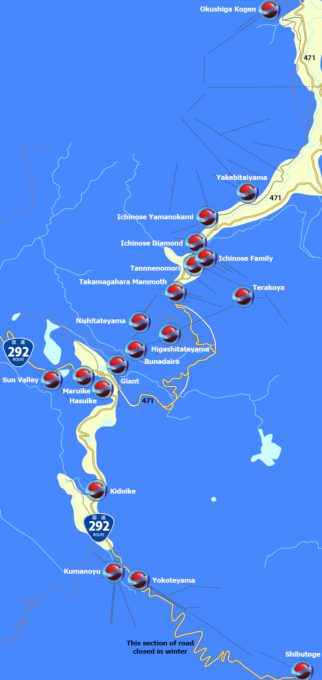 East Central Shiga Kogen.
Ichinose Diamond. Two lifts, two novice runs with 85m vertical. A magic carpet bridge connects to Ichinose Family. Access to other resorts is via Ichinose Yamanokami.
Ichinose Family. Four lifts, four runs; the longest being 3,200m. A magic carpet bridge connects to Ichinose Diamond. This is quite a central resort with access to other resorts is via Ichinose Yamanokami.
Ichinose Yamanokami. Just one lift and three beginner runs up to 800m long and 105m vertical. Joins Ichinose Diamond with Yakebitaiyama acting as the link between the central and northern resorts.
Takamagahara. Three lifts with two runs down a 1,000m long slope at max. 25o. The top links to Higashitateyma whilst there is also access to the Ichinose resorts.
Tannenomori. Just one lift and one 500m novice run with 155m vertical. On either side are Ichinose Family and Takamagahara.
Terakoya. The second highest resort with two lifts and five runs up to 2,060m elevation allowing for a 940m run down 155m vertical. Only accessed via the top of Higashitateyma or Ichinose Family.
Yakebitaiyama. Known as Yakebi with five lifts accessing 14 runs including the 2,500m Olympic runs with 450m vertical. Enter via the Ichinose resorts or via Okushiga Kogen at the top.
West Central Shiga Kogen.
Giant. Just one lift and a 1km intermediate run. Access to Hasuike (top), Maruike (top), Hoppo Bunadaira (bottom) and Nishitateyama (bottom).
Hasuike. Just one lift from the car park accessing three easy runs with a max. vertical of 85m.. Access to Giant (top) and Maruike (top).
Higashitateyma. A gondola and two runs, one straight down (olympic giant slalom course) and one winding through the trees. Access to Terakoya (top) and Hoppo Bunadaira (bottom).
Hoppo Bunadaira. Two chair lifts, but only one 1.5km run with a 240m vertical. Access to Higashitateyma (top), Giant (bottom) and Nishitateyama (bottom).
Maruike. Two lifts, four runs which are 32o at their steepest. Connected to Hasuike and Sun Valley.
Nishitateyama. Three lifts, four runs up to 1,730m long and 270m vertical. Connects to Takamagahara (top), Giant (bottom) and Hoppo Bunadaira (bottom).
Sun Valley. The first of the Shiga Kogen resorts with just one lift connected at the top with Hasuike and Maruike. It has three runs up to 800m long and 170m vertical.
Northern Shiga Kogen.
Okushiga Kogen. A gondola and 5 chair lifts access 10 runs. The steepest is 30o and hit a max. elevation of 2,000m in the northern part of the resort connected to Yakebitaiyama (top).
Southern Shiga Kogen.
Kumanoyu. Four lifts with 12 runs at the southern end of the resort, but you need the shuttle bus to get here. Yokoteyama and, in turn, Shibutoge are also at this end of the resort.
Shibutoge. Access only possible via Yokoteyama with just one lift to return back to the top.
Yokoteyama. Access to the top of the resort at 2,307m via the highest lift in Japan. Also has the longest and most runs of any of the Shiga Kogen resorts; 14 off seven lifts. Connected to Shibutoge.
RESORT OVERVIEW:
Piste information for the 18 ski resorts of Shiga Kogen.
Bottom Ski Area: 1,340m.
Highest Ski Lift: Mt. Yokote at 2,307m.
Skiable Terrain: 600 interconnected hectares.
Average Seasonal Snowfall: 11m.
Kms of piste: 83km..
Marked Pistes: 69, 28 green/blue, 28 red, 13 black/ski routes.
No of Ski Lifts: 51, shuttle buses, 4 gondola/cable car, 47 chair-lifts.
Mountain Restaurants: 34 listed.
Snow Parks: Yes at Yakebitaiyama, including a half-pipe. Night skiing at Yakebitaiyama and Okushiga Kogen.
Longest Ski Run: 2,500m long off the top of Mt Yokote.
Ski Season: mid-November to end May.
Main Advantages: Long season. Deep powder snow. Snow monkeys! Large ski area.
Drawbacks: Shuttle buses between areas. It snows a lot! Access to some expert skiing prohibited.
Ski Pass Options.
All ski pass options give you access to all 18 Shiga Kogen resorts and the shuttle buses. Passes are available from 4 hours to 10 days. And prices are lower for Children, Students and Seniors.
There is also a discounted one or two day early/late season option as well as a one, two or three day accompanied child version.
For regular visitors there is the option to buy points which can then be exchanged for day tickets throughout the season.
Ski Resorts near Shiga Kogen.
Still in Nagono province is Hakuba Happo One, the other of the best ski resorts in Japan, and Nozawa Onsen.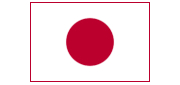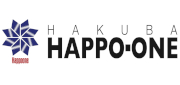 Nozawa Onsen is a popular ski resort with both Japanese and International visitors. A really traditional village with hot springs (Onsen) and powder snow.
If you are in the area you should also be sure to visit Jigokudani Yaen Koen near Yamanouchi, home to the famous snow monkeys of Japan, who sit around in the hot springs.