[siteorigin_widget class="Advanced_Ads_Widget"][/siteorigin_widget]
Zell am See Kaprun Ski Resort
Zell am See by night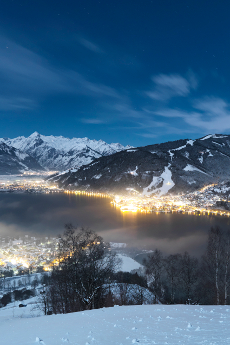 Zell am See At Night
[siteorigin_widget class="Advanced_Ads_Widget"][/siteorigin_widget]
Apres Ski Zell am See
The Best Bars For Apres Ski Zell am See
A Bit of Irish
A the name suggests, an Irish pub in Austria. Sebastian Horl Strasse, Zell am See.
B-17
Serves ornate cocktails covered in streamers and fans of fruit.
O' Flannigans
Irish Pub!
Resi
The hugely popular Resi has two lively bars with an arrangement of peculiar games to keep everyone entertained.
Villa Crazy Daisy
Salzmannstr 8. Tel: 6542 72526.
Sportstüberl
For a typically Austrian bar, head to the Sportstüberl in the Hotel Lebzelter, which was built in the 1700s and serves hot Jägertee.
The Bierstadl
The Bierstadl features 33 different kinds of beer and is where the locals gather. Kirchengasse Tel.: +43(6542)72373
Wunderba
On the top floor of the Grand Hotel, overlooking Lake Zell, the place to go for quite elegance.
The Best Restaurants Apres Ski Zell am See
Eating out in Zell am See can be surprisingly cheap, especially if you opt for the menu of the day, which is usually 2 courses for about 10 euros. However, alcohol, particularly wine can be expensive in restaurants.
Schloss Prielau
Acknowleged to be the top restaurant in the area. It serves internationally recognized award-winning continental cuisine. Castle Prielau, Hofmannsthal Street. Tel: +43 6542 72 911 0.www.schloss-prielau.at.
The Bar "Einkehr"
A chic bistro with a horseshoe bar complete with electric generator and the main dining room upstairs. Schmittenstr. 12, Zell am See – 72363.
The next restaurants all serve excellent Austrian cuisine. For the best combination of fine dining in a comfort-able atmosphere (lots of wood carvings and unusual wall lights), try the Steinerwirt (6542-72502) in Zell am See. It specializes in sirloin steak Vienna style (with onions and small dumplings), and the Salzburger Nockerl (a tasty soufflé) is not to be missed for dessert.
The Guggenbichl hut
(6547-8578) features Kasnocken (noodles, cheese and butter) baked and served in a huge skillet. Scraping out the bottom of the pan for the crusted delicacy is fun for the whole table. The inn rises above Kaprun and diners are allowed to climb 5,280 feet above and slide down to the entrance in sleds provided for the thrill. It's a good way to work up an appetite or work off the huge dinner.
Jagawirt
(6547-8737) near Kaprun is a charming inn, owned and operated by Hans and Theresia Nindl, which provides an outstanding dining experience. We en-joyed wild goat (Gamsgebraten) in mushroom sauce with black bread dumplings (Schwartzbrotknodel) and cranberries (Pieiselbeen). A venison filet (Hirschrunckenfilet) is cooked medium (Rosabebraten) with mushrooms (Steinpilen) in Burgundy sauce, €20. Nindl is an avid hunter and he takes some of the local game (venison, antelope, goat) for the restaurant. Two delicious desserts are blueberries heated with flour and eggs with vanilla ice cream (Moosbeernocking) for €6, and Mandelecken, a light almond cake floating in blueberry and kiwi sauce for €6. The inn is also a popular après-ski stop for skiers coming down from the Kitzsteinhorn glacier. African art and artifacts decorate the walls of the restau-rant, attesting to the Nindls' living in Rhodesia part time. Jagawirt is only open September through May.
Limberghof
Just outside Zell am See, serves rich fried pork, veal and beef steaks on wooden planks. Tropfen Amelner, about 90 proof, is a perfect digestive.
Dorfstadl
(6547-7280) is the locals' favorite restaurant in the region. The setting is hand-hewn post-and-beam and the food is spectacular not only in taste but in presentation. Try the garlic soup for an appetizer and apple strudel for dessert. For a main course any selection will please.
Once you have had your fill of Austrian fare, try Italian or Tex-Mex.
Delicious cordon bleu and pepper steak top the fare at Traubenstube (6542-72368). For a light meal, sample Pizzeria Giuseppe Tel: 6542 72373 and Zum Casar Tel: 6542 47257.
Crazy Restaurant
Tel: 6542 72526, in the Villa Crazy Daisy, is a Scandinavian-owned Mexican restaurant with an inexpensive menu featuring among other items "breath killer" garlic bread.
The Café Konditorei Mosshammer
and Café Feinschmeck are your best bets for a late afternoon snack, especially for mouth-watering pas-tries and chocolates. Vanini on Banhofstrasse has the best and largest variety of Austrian and other pastries.
Kaprun
In Kaprun, dining is good at the large hotels. Two favorites: Kaprunerhof and Hotel Zur Burg. The Cafe Konditorei has wonderful pastries in Kaprun.
On the mountain
At the top of the Schmittenhohe, Breiteckalm is the lunch choice. Here Peter Radcher, owner, chef, waiter, bartender and perfect Austrian host, serves a hearty traditional Austrian fare.
Gletschermühle
on the glacier is a good luncheon spot with its Tyrolean fare, spectacular views, huge deck and sun chairs for rent.